Paysay: An app that makes sharing expenses easy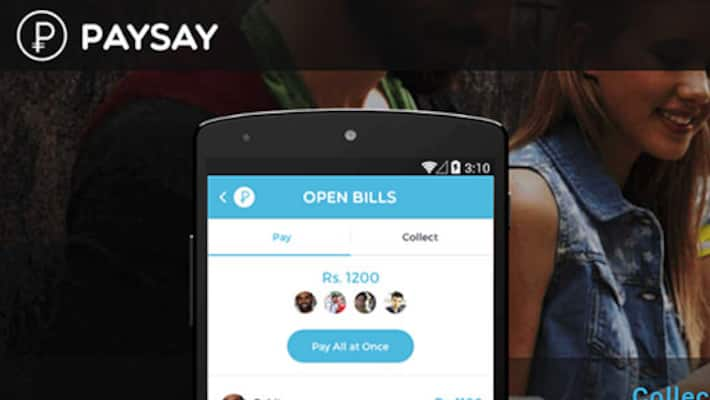 During my first year on the job, I decided to be the in-house office party and birthday celebration planner - young and eager to please the more experienced crowd. While making all the arrangements for a fun evening was easy, asking my seniors to pay up definitely wasn't.
There I was, barely 20, standing with an empty basket in hand and no guts to make repeated requests for money. So, many a time, the 'office birthday cake fund' was paid entirely through my meagre earnings.
Collecting payments from each and every member for an event, party or gift, is a tedious process and this is exactly the sore point that two Bangalore-based visionaries wish to address.
In April last year, Deepak Nair and Anshum Verma conceptualised the idea of a group expense sharing app while working at Nokia.  "We wanted to build a plug-in that will help group buying of gifts and event tickets."
Their app, Paysay, lets you create an expense pool that can be shared with your group of friends or colleagues or roommates. The total expense will then be equally divided amongst all the contributors that have registered on PaySay, they are now working toward creating a plug-in that lets you customise the contribution of each individual in the group.
For all our good intentions, no one likes to be stuck with footing the bill. And then there's that situation when your friends promise to pay you their share but days, months go by and it doesn't happen. "With Paysay, no person is stuck with the responsibility of tracking down payments and contributors. Neither do you need to get stuck with bills," says Verma.
You do not need to school yourself to remind your 'friend' to pay up either. Once a pool is created, the app sends out constant reminders to your group to contribute money towards the event, you can even chat on the app that will help you discuss the event.
And then there's the guy who's in-charge of the pooled money who just vanishes without a trace, with your share. With PaySay, the money is held in an escrow account with Yes Bank and then the pool creator can take a call on what they want to do with the pooled amount.
"Everything is safe, the money is not held by our small company, in case you were worried we'd fly by night," they say.
Once all contributors have paid up you can use the pooled money to buy the gift or concert tickets or whatever else the hearts desire.
There are two ways you can now use this pooled money
The app is integrated with Citrus wallet so you can buy from online retailers that accept Citrus
You can ask for the money held in escrow to be deposited into your bank account or the bank account of another contributor. 
Share your expenses with Paysay
Young India is always looking for decent and cool roommates who can actually pay their share of domestic expenses. But squabbles on why one should pay the cable bill 'when I don't watch TV at all' rule most of these living arrangements. LetsPool allows roommates to divide their domestic expenses.
Every member can feed in the expenses incurred for household bills and then click on the 'Settle up' to divide all the combined expenses. Once the expenses are divided, you can pay up if you owe money or collect dues from your roommates on the app itself, once all expenses are settled each individual can cash out their money.
What's next for the dynamic duo?
Paysay (formerly known as LetsPool) plans to expand their expense sharing app from online purchases to physical stores and eateries as well.  For one, it would reduce the hassle of swiping multiple cards to settle a single bill, all it takes is a few clicks to share the expense and pay the bill. This would also allow you to pay for only what you have consumed.
Last Updated Mar 31, 2018, 7:03 PM IST