World Students Day 2023: Glance at date, history and significance of THIS occasion
World Students Day is celebrated in India on October 15 annually to mark the birth anniversary of Dr. A.P.J. Abdul Kalam, the 11th president of the country. On World Students Day 2023 today, we remember how the former President always inspired students across the country and abroad to dream big and never be afraid of failure.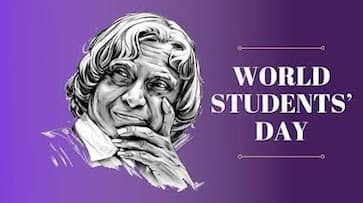 Even after becoming the President of India, the late Indian President Dr. A.P.J. Abdul Kalam loved interacting with school children and young minds and loved to answer their questions. He firmly believed that students are the future of the nation and can take the country to new heights. Kalam breathed his last on July 27, 2015, while delivering a lecture at IIM-Shillong when he collapsed and died from a cardiac arrest.
ALSO READ: Shubho Mahalaya 2023: Visiting river banks to making traditional foods, how to celebrate THIS day
Date:
World Students Day is marked and celebrated annually on October 15. It marks the birth anniversary of Dr. A.P.J. Abdul Kalam, the former President of India. Dr. Kalam, also labelled as the Missile Man of India, was a competent scientist, an inspiring teacher and a mentor. He was deeply passionate about education and believed in the potential of young minds to shape the future.
History:
World Students Day is an occasion marked in honour of the dedication of the late Dr A.P.J. Abdul Kalam to education and his efforts to encourage and inspire students to pursue knowledge and innovation. The United Nations declared his birthday on October 15 as World Students Day in 2010.
Significance:
World Students Day serves as a reminder of the critical role students play in building a better society. It highlights the importance of education, scientific temper, and creativity in addressing global challenges. This day encourages students to reflect on their responsibilities towards society, promote learning and understanding among different cultures, and work towards positive change.
On this day, various educational institutions and organizations across the globe conduct events, seminars, and workshops to celebrate the spirit of learning. Students are encouraged to participate in discussions, share ideas, and engage in activities that promote knowledge-sharing and intellectual growth. World Students' Day pays homage and tribute to the vision of Dr. Kalam in nurturing young minds and empowering them to make a difference globally.
ALSO READ: Are you having hypertension? Here are 7 food items to avoid if you have high blood pressure
Last Updated Oct 15, 2023, 7:30 AM IST