Perfect Pairings: Know what meat to match with which liquor for culinary harmony
Discover the art of matching meat and liquor for an exquisite dining experience. From steak and red wine to salmon and gin, explore harmonious combinations that enhance flavors and elevate enjoyment.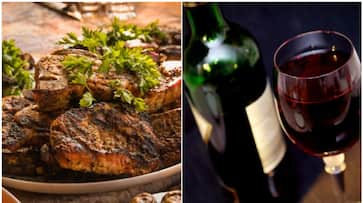 Pairing the right meat with the appropriate liquor can elevate your dining experience, enhancing the flavors of both the dish and the drink. Achieving a harmonious balance between the two requires an understanding of the meat's characteristics and the liquor's attributes. When pairing meat with liquor, consider the intensity of flavors, the weight of the dish, and the characteristics of the drink. Experimentation is key, and personal preferences play a significant role in finding the ideal combination. As you explore these pairings, you'll uncover a world of flavors that enhance both the dining and drinking experience.
Here are six combinations that demonstrate how to match meat with liquor for a delightful culinary experience:
1. Grilled Steak and Red Wine
A succulent grilled steak, with its hearty and robust flavors, complements the rich, complex notes of red wine. Opt for a bold red like Cabernet Sauvignon or Malbec. The tannins in the wine help cut through the meat's fat, enhancing the taste of both.
2. Roast Chicken and Chardonnay
The delicate flavors of roast chicken pair well with a crisp, oaked Chardonnay. The wine's buttery texture complements the poultry's tenderness, creating a balanced and refreshing combination.
3. Spicy BBQ Ribs and Bourbon
The smoky, spicy flavors of BBQ ribs are enhanced by the sweet and smoky notes of bourbon. The caramel undertones in bourbon provide a pleasant contrast to the heat of the ribs, creating a harmonious balance of flavors.
4. Pan-Seared Salmon and Gin
The light, flaky texture of pan-seared salmon pairs beautifully with the botanical and citrus notes of gin. The gin's botanicals bring out the fish's natural flavors while providing a refreshing contrast.
5. Pork Tenderloin and Whiskey
The subtle sweetness of pork tenderloin complements the warmth and caramel flavors of whiskey. Whether you choose a smoky bourbon or a mellow Irish whiskey, the combination offers a delightful interplay of tastes.
6. Spicy Lamb Curry and Beer
The bold and spicy flavors of a lamb curry find a perfect match in a cold beer, especially a hoppy IPA. The bitterness in the beer offsets the richness of the curry, creating a satisfying and refreshing contrast.
Last Updated Aug 13, 2023, 6:02 PM IST