Navratri 2023: Special festive meals to keep your dog healthy 
During Navratri, it is important to keep your furry friends' diet needs in mind including sufficient intake of vitamins and minerals. Here are a few meals that will make them happy.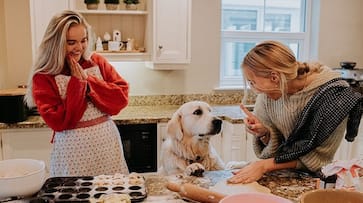 Navratri is the time when we worship the victory of Mother Goddess Durga for the vanquishing of evils. While many people fast these days, it's also essential to take care of your furry pal's diet. A balanced and nutritious diet is vital for their well-being. Keep in mind, just because you're on fast or avoid having some food items, your pet is built differently and will still need their required nutrients. To address this, Asianet Newsable got in touch with Dr Deepak Saraswat, Head Veterinarian, Zigly who shared some insights for your pets' meal during the Navratri season
Fruits and boiled potato
Offer your pets a variety of dog-safe fruits such as apples and boiled potatoes. This can be an essential source of vitamins and fiber. Ensure you remove
seeds, pits, or slices before serving to avoid any kind of allergies, and make sure to consult your pet once before serving.
Homemade broth
Homemade vegetable broth can be a tasty and hydrating option. It's an excellent option to keep your pet's food intake up during Navratri.
Lean protein
Dogs require more protein for energy and for maintaining the muscles. Navratri feeds them with lean sources of protein such as chickpeas. Also, take care of the spices, as this can really upset your pet's stomach, and make sure these should be easily digestible or provide energy.
Yogurt
Yogurt can be a great and excellent source of probiotics for a dog's health. This is a great addition to their diet. However, taking care of their lactose intolerance in some pets is also essential.
But before feeding your dog, it is always mandatory to consult your vet before making any changes to your dog's diet plan as vets can provide personalized recommendations based on specific needs. Also, during Navratri, it's important to keep your furry friends' diet needs in mind including sufficient intake of vitamins and minerals. 
By offering them a variety of nutritious and safe foods, you can ensure their well-being while you celebrate this auspicious festival. You can make this Navratri a joyful and healthy time with your dog coz a healthy dog is a happy dog.
Last Updated Oct 17, 2023, 9:28 AM IST