Navratri 2023 Day 1: Details on Ma Shailaputri and puja significance
Maa Shailputri, Day 1 of Navratri, symbolizes determination and unwavering faith. Fasting, prayers, and offerings invoke her blessings, igniting a spiritual journey for devotees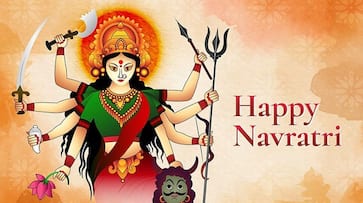 Navratri, one of India's most vibrant and auspicious festivals, is a nine-night celebration dedicated to the worship of the divine feminine energy, also known as Devi or Shakti. Each day of Navratri is devoted to a different manifestation of the Goddess, and on the first day, we celebrate Maa Shailputri. The word 'Shailputri' translates to 'the daughter of the mountain,' with 'Shail' referring to the mountain and 'Putri' signifying daughter. Maa Shailputri is considered to be the absolute form of the primordial goddess, Parvati, who is Lord Shiva's consort.
Maa Shailputri
Maa Shailputri is depicted as a goddess riding a bull and holding a trident or trishul in her right hand and a lotus flower in her left hand. She is often depicted with a moon on her forehead, symbolizing her control over time, and is adorned with simple yet regal attire. She is the embodiment of purity and divine strength.
The significance of Maa Shailputri lies in her unwavering devotion to Lord Shiva. According to Hindu mythology, she was born as the daughter of King Daksha, and in her previous birth, she was known as Sati, who self-immolated in the fire of her father's yagna due to the insult of her husband, Lord Shiva. In her next life, she was reborn as Parvati, and her intense penance to win Lord Shiva's heart transformed her into Maa Shailputri.
Maa Shailputri signifies the power of determination, patience, and unwavering faith. Her mount, the bull, symbolizes dharma (duty) and righteousness. Worshiping her on the first day of Navratri invokes these virtues, helping devotees overcome challenges and obstacles in life.
Puja Significance
On the first day of Navratri, devotees wake up early, take a ritual bath, and wear clean and fresh attire. The puja begins with the invocation of Maa Shailputri through the recitation of mantras and prayers. Devotees offer flowers, incense, and lamps to the goddess while singing devotional songs. The main offerings include milk, honey, and pure ghee, which symbolize purity and nourishment.
Fasting is an integral part of the puja on this day, where many devotees abstain from eating food throughout the day and break their fast in the evening after performing the evening aarti. Fasting is not just a physical act but a way to purify the body and mind, aligning one's energy with the divine mother's grace.
The significance of worshiping Maa Shailputri extends beyond the material realm. It is believed that her blessings can help individuals gain the strength and courage needed to conquer their inner demons, doubts, and fears. By honoring her on the first day of Navratri, devotees embark on a spiritual journey, seeking the guidance and protection of the divine mother throughout the nine auspicious nights. Maa Shailputri's energy serves as the foundation for the spiritual awakening and rejuvenation that takes place during Navratri.
ALSO READ: Navratri 2023 Day 1: Know about Shardiya's shubh muhurat, puja vidhi, aarti, bhog and more
Last Updated Oct 15, 2023, 11:31 AM IST