Navratri 2023 Day 1: Know about Shardiya's shubh muhurat, puja vidhi, aarti, bhog and more
Shardiya Navratri Day 1: This day honours Mata Shailputri, the first incarnation of Goddess Durga. The date, puja vidhi, mantras, shubh muhurat, importance, and bhog to serve to the goddess are all included in this comprehensive reference to Shardiya Navratri.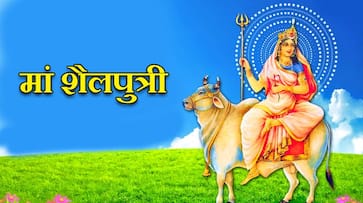 Navratri, a nine-night holiday, has arrived, and devotees of Maa Durga, also known as Adi Shakti, are preparing to celebrate in magnificent style. Hindus celebrate four Navratris each year, but two stand out in terms of great scale: Chaitra Navratri and Shardiya Navratri. The next event is Shardiya Navratri, which takes place in the fall season during the lunar month of Ashwin. Shardiya Navratri commemorates Goddess Durga's victory over the demon Mahishasura, thus her other name, Mahishasura Mardini. This year's Navratri celebrations will last nine days, from October 15 to October 24, with each day dedicated to one of Maa Durga's nine manifestations, known as Navdurgas. The festival begins with Ghatasthapana and ends with Maha Navami.
Navratri Day 1: Significance
Mata Shailputri, the initial form of Goddess Durga, is revered as the epitome of purity and might. 'Shail' means'mountain,' and 'Putri' means 'daughter.' She is considered to be the reincarnation of Goddess Sati, King Daksha's daughter. Worshipping Mata Shailputri is significant in seeking power and purity in one's life.
Navratri Day 1: Date
Navratri is observed twice a year, once during Chaitra Navratri in the spring and once during Sharad Navratri in the autumn. The first day of Navratri marks the start of this nine-day festivity. Sharad Navratri will begin on October 15, 2023, with the first day devoted to Mata Shailputri.
Navratri Day 1: Maa Shailputri
Mata Shailputri, the heavenly daughter of the Himalayas, marks Navratri Day 1 as a day of fresh beginnings. Devotees seek her blessings for their lives to be pure, strong, and prosperous. This day sets the tone for the nine-day celebration of Navratri, during which devotees call the divine feminine energy to promote brightness and light into their life, with elaborate puja vidhi, chants, rituals, and offerings. It is a period of great dedication, meditation, and celebration in which people come together to worship the Goddess.
Navratri Day 1: Puja Vidhi (Rituals)
The nine-day worship begins with devotees adopting a pledge to execute it with dedication, purity of heart, and a clear conscience.
On the first day, a clay pot, or kalash, is set up to represent the Goddess's presence.
This Kalash is filled with water and has barley seeds planted in it.
On the altar, an image or idol of Mata Shailputri is placed and decked with flowers and jewels.
Various mantras and hymns devoted to Mata Shailputri are spoken throughout the puja.
The most popular mantra is "Om Hreem Kleem Shailputryai Namah."
Aarti is a devotional rite that involves waving a lighted lamp in front of the god while chanting songs.
Flowers, fruits, coconut, and sweets are presented to the Goddess by devotees.
Navratri Day 1: Shubh Muhurat
The Pratipada Tithi (the first day) of the Sharad Navratri is the most auspicious period for Ghatasthapana on Navratri Day 1. It is usually done during the Abhijit Muhurat, which is regarded extremely beneficial. According to Drik Panchang, the shubh muhurat on Ghatasthapana is expected to occur between 11:44 AM and 12:30 PM. 
Navratri Day 1: Bhog
As a token of their devotion and thanks, devotees present Mata Shailputri with different bhog. Among the most prevalent bhog objects are:
To represent purity, offer pure milk to the Goddess.
Honey is provided as a symbol of sweetness and a happy life.
Ghee represents wealth and plenty.
Sugar is presented as a means of bringing sweetness and delight into one's life.
As a sign of excellent health, a selection of seasonal fruits is provided.
The coconut represents success and fortune.
Navratri Day 1: Mantras
Om Jai Maa Durga
Om Namah Shivaya
Om Shakti Patte Namah
Om Jayanti Mangala Kali Bhadrakali Kapalini Durga Kshama Shiva Dhaatri Swaha Swadha Namostute
Om Ye Devi Sarvabhuteshu Maa Durga Rupena Samsthita Namastasyai Namastasyai Namastasyai Namo Namah
Last Updated Oct 15, 2023, 7:00 AM IST