Karwa Chauth 2023: 6 modern ways to represent love and companionship
Modern couples often seek unique and meaningful ways to celebrate traditional festivals like Karwa Chauth. Here are six modern ways to represent and signify love and marriage on this auspicious festival in India that is all about setting love and companionship goals and fasting together for the longevity of each other.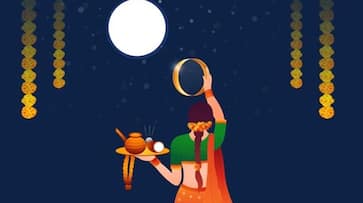 Karwa Chauth is a traditional Hindu festival where married women fast from sunrise to moonrise for the well-being and longevity of their husbands. While the essence of the festival remains the same, modern celebrations have adapted to the changing times. Remember, the essence of Karwa Chauth lies in the love, trust, and understanding shared between partners. Modern celebrations can still honour these values while adapting to contemporary lifestyles. Here are six modern ways to celebrate love and togetherness on Karwa Chauth. The beloved celebration of Karwa Chauth, which honours the marriage bond, has a contemporary spin.
ALSO READ: Fasting with ease: 10 tips to prevent acidity on Karwa Chauth 2023
1. Cook and Share a Special Meal:
Instead of the traditional cooking done by the wife's family, modern couples can cook a special meal together. Experiment with new recipes, cook each other's favourite dishes and enjoy this journey of creating a meal as a couple.
2. Virtual Pooja and Family Calls:
With the advancement of technology, couples can perform the Karwa Chauth pooja together via video calls, even if they are not physically together. Involve family members in the virtual celebrations, allowing them to participate and bless the couple.
3. Plan a Romantic Date Night:
After the fast is broken, plan a romantic date night at home or in a favourite restaurant. Enjoy each other's company, watch a romantic movie, or take a leisurely stroll. Use this time to reconnect and celebrate your relationship.
4. Exchange Thoughtful Gifts:
Surprise each other with thoughtful gifts. It could be something your partner has been wanting for a while or something that symbolizes your love and commitment. Handwritten letters expressing your feelings also make for meaningful gifts.
5. Spa and Rejuvenation:
Give lots of tender love, care and affection to yourself and your partner with a spa day at home. Give each other massages, do face masks, and relax together. Create a calming ambience with scented candles and soft music. It's a great way to unwind and bond.
6. Express Gratitude and Love:
Take some time to express your gratitude and love for each other. Reflect on your relationship, the challenges you've overcome, and the beautiful moments you've shared. Writing down your feelings or speaking from the heart can deepen your connection.
ALSO READ: 5 places Indians can travel without visa from November 2023
Last Updated Nov 1, 2023, 7:20 AM IST