Are you a weekend traveller? Here's a list of places for getaways from Bengaluru
Bengaluru residents seeking a peaceful escape from the city can explore serene getaways like waterfalls, wildlife sanctuaries, and hill stations. Monsoon showers enhance the beauty of places like Hogennakal Falls, Jog Falls, Shivanasamudra Falls, Bannerghatta National Park, and nearby hill stations. These destinations offer a refreshing weekend retreat for those looking to recharge and rejuvenate.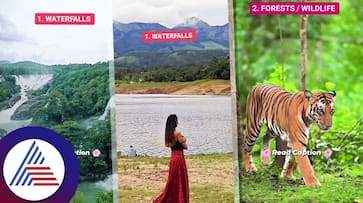 Bengaluru, the bustling metropolis known for its vibrant tech culture, is home to many who have settled in the city over the years. However, when friends inquire about places to explore in Bengaluru, it's not uncommon for residents to draw a blank, listing just a handful of popular destinations. In a city filled with noise and traffic, it's often a relief to escape the urban hustle and bustle, seeking quiet, scenic getaways that promise a tranquil weekend retreat.
Thankfully, Bengaluru offers an abundance of such retreats, perfect for a refreshing weekend escapade. If you're a weekend traveller seeking to recharge and rejuvenate, we've curated a list of serene spots just a short distance from the city. As the monsoon showers grace the region, the beauty of these places is accentuated, making them ideal for a quick getaway.

5 places Indians can travel without visa from November 2023
For the waterfall enthusiasts, Bengaluru has several cascading wonders to offer. As the rains adorn the landscape, these waterfalls come to life. Consider starting with a visit to Hogennakal Falls, located around 130 km from Bengaluru. If you're looking for a slightly longer weekend trip, make your way to Jog Falls, a 400-kilometer journey that promises breathtaking views.
Shivanasamudra Falls is a more convenient option, just 125 kilometres away from the city, providing a comfortable weekend escape. Surrounding Bengaluru, you'll also find Hebbe Falls, Abbey Falls, and Mallalli Falls, each within a 250-kilometer radius.

If wildlife and forests capture your interest more than waterfalls, Bannerghatta National Park is just 15-20 km away, offering a one-day safari adventure. Slightly farther afield, Bandipur National Park beckons at 230 kilometres, while Kabini Forest and BRT Wildlife Sanctuary are also within reach at 220 km and 180 km, respectively. Bhadra Wildlife Sanctuary and Nagarahole Wildlife Sanctuary await your exploration at distances of 290 kilometres and 200 kilometres.

Shimla to Gulmarg: 7 places to enjoy snowfall in India
For those seeking a lofty escape, Bengaluru's proximity to hill stations provides the perfect excuse for a long weekend trip. Munnar, a lush paradise, awaits at 450 km, with Kotagiri, Wayanad, and Coorg nestled closer at 350 km, 290 km, and 260 km, respectively. Chikkamagaluru is a scenic 240-kilometer drive, while Sakleshpur and Kodaikanal can be reached at 220 km and 460 km. Coonoor, another hill station gem, sits just 350 kilometres away.
With a little planning ahead, you can explore this entire array of captivating destinations and return to Bengaluru with your heart brimming with memories.
Last Updated Nov 1, 2023, 3:53 PM IST