5 DIY tips for strong, shiny and smooth hair
Protect your hairs from pollution, deeply nourish them & keep them strong, smooth & shiny with the help of some tips.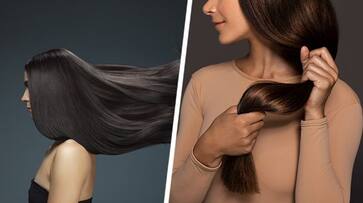 Pollution is being generated everywhere on a large scale. Be it soil, water or air, pollution is affecting humans in every way it can. And because of which, many people suffer from various problems related to their hair. Split ends, dandruff, roughness , oily hairs are some of the major problems for the majority of people.

But in the end, chemicals are the primary ingredients that are used to treat the complications which may not always be good. Spa, keratin formula, straightening, etc, gives instant results without taking much time whereas, natural products take time but the results are comparatively much better & many people are now opting for using natural products.

So, to treat your hairs with natural ingredients, follow the following DIY to keep your hairs strong & look shiny & smooth:

1)Aloe Vera hair mask:
-Take 2 tablespoons of natural Aloe Vera gel & 1 tablespoon of Honey & 3 tablespoons of coconut oil.
-Whip all the ingredients & make sure the consistency is not runny. If it happens, add more honey.
-Apply the mask on your dry hair roots till tip (before shower) and keep it set for next 30 minutes.
-Wash your hair with normal water & do your regular hair care routine.
2) Egg Mask:
-Collect 2 eggs, 2 tablespoons of coconut oil/olive oil, ½ cup of yogurt/honey & mix it well.
-Wet your hairs & massage this mixture on the scalp & hairs.
-After keeping the mixture for 30 minutes, wash your hair with cold water with normal shampoo.
3)Avocado Mask:
-Mash 1 avocado & mix 2 tablespoons of olive/almond oil.
-Apply this mixture on slightly damp hairs on the scalp & tips of hairs.
-Keep it for 30 minutes & then wash it with normal water.
4)Banana, Olive Mask:
-Take 1 ripe banana. Blend it in a food processor, make sure there are no lumps.
-Add 1 tablespoon olive oil and pour in the banana texture.
-Apply the mask on wet hair, starting with the roots till tips. Massage it properly.
-Let the mask set for 15 minutes. Later wash your hair with cool water & use your regular shampoo - conditioner.
5)Honey Mask:
-Take half a cup of raw honey & 2 ripe bananas. Blend it in together & make a puree.
-For extra smoothness, add ½ cup of olive oil into the mask.
-Apply the mask on dry hairs from roots till tips & leave it on for 20 minutes.
-Wash your hair with lukewarm water & can use shampoo if the mask is not getting off.
So go & give a try to any of the above DIY & let people guess the secret of your beautiful hair at this festival!
Last Updated Oct 6, 2023, 6:32 PM IST