Yoga is officially now a sports activity in authoritarian Saudi Arabia
Yoga is now an official sport practiced under Saudi Ministry of trade and industry
Nouf Marwaai, the kingdom's first woman yoga instructor, posted the information on her Facebook page
This comes at a time when Indian Muslims have been refusing to practice yoga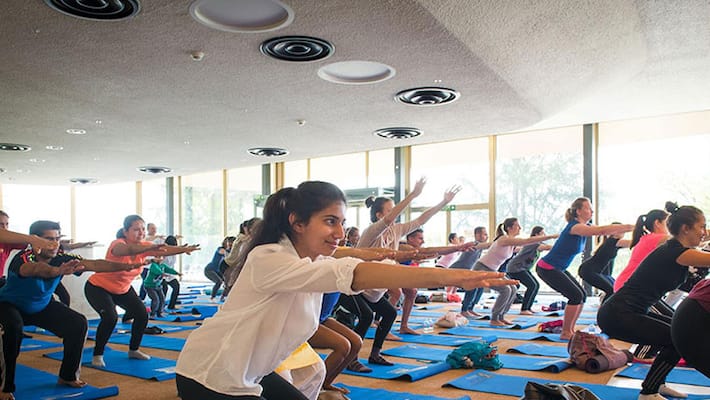 Saudi Arabia is definitely moving towards societal progress and liberalization. Yoga is now an official sport practiced under Saudi Ministry of trade and industry, according to a social media post of Nouf Marwaai, the kingdom's first woman yoga instructor.
The approval will enable anyone to get a yoga centre/studio license and start teaching yoga as a sports service under the head of business activity, reported the Times of India.
Nouf Marwaai, the first certified yoga instructor from Saudi Arabia, is being credited for this development. She believes that Yoga and religion cannot be in conflict with each other. It was an uphill task for the Nouf. But she approached Princess Reema Bint Bandar Alsaud, a member of the Royal Council who started the basketball for women in Saudi Arabia.
"Princess Reema Bint Bandar Alsaud was chosen to be the Deputy of the General Sports Authority and she welcomed all leaders in any sports for women to approach her directly. Sports have been allowed for women this year and driving as well," said Nouf.
 Marwaai has acknowledged the support she received from the Indian government, the Consulate General in Saudi Arabia and the people of India. She calls India 'the land of the yoga'.
She has also thanked the leadership in Saudi Arabia, King Salman Bin Abdulaziz and the Crown Prince Mohammad Bin Salman for bringing massive changes in Saudi Arabia.  In his 'Vision 2030' Prince Mohammed has laid out a vision for 'a tolerant country with Islam as its constitution and moderation as its method'.
"Yoga, which literally means 'union'. A union of individual with ones well being, a body to mind, emotions and soul, nation to globe has officially arrived at the sea shore of Saudi Arabia. It has crossed the boundaries of fundamentalism, MB fanaticism and ideological extremism," Marwaai said in her Facebook post talking about her victory.
This comes at a time when Indian Muslims have been refusing to practice yoga. Fanatical clerics in Jharkhand issued a fatwa against a Muslim Yoga practitioner called Rafia. Muslim clerics in India have called yoga 'haram'. Saudi Arabia on the other hand has given its citizens the right to practice yoga for a better lifestyle.
Last Updated Mar 31, 2018, 6:48 PM IST