Yazidi woman narrates how she was forced into ISIS sex slavery
Murad was lucky that the strangers she found in Mosul helped smuggle her to a refugee camp
Nadia Murad, 21, was one among the 5000 women captured by the ISIS in Northern Iraq on August 15,2014
In her book The Last Girl: My Story of Captivity, and My Fight Against the Islamic State, published recently Nadia narrates the how her simple life was overturned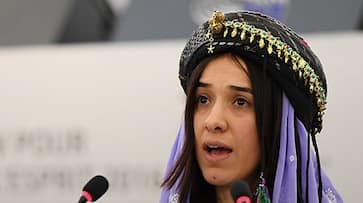 Nadia Murad, 21, was one among the 5000 women captured by the ISIS in Northern Iraq on August 15,2014. Her life has come a long way since then and there are numerous horrific accounts she to share for it now. 
In her book The Last Girl: My Story of Captivity, and My Fight Against the Islamic State, published recently Nadia narrates the how her simple life was overturned into a daily horror show since she became captive. 
In her book, Nadia recounts how coming from the small village of Kocho in norther Iraq, her Yazidi life was quite simple and she had dreamt of becoming a teacher when she grew up. 
Her dreams turned to dust when the Islamic State militants massacred the people of her village, executing men who refused to convert to Islam and women too old to become sex slaves.
Six of Nadia's brothers were killed, and her mother soon after, their bodies swept into mass graves. Nadia was taken to Mosul and forced, along with thousands of other Yazidi girls, into the ISIS slave trade.
Nadia would be held captive by several militants and repeatedly raped and beaten. Finally, she managed a narrow escape through the streets of Mosul, finding shelter in the home of a Sunni Muslim family whose eldest son risked his life to smuggle her to safety.
Her reason for writing this book: "It never gets easier to tell your story. Each time you speak it, you relive it."
"[But] my story, told honestly and matter-of-factly, is the best weapon I have against terrorism, and I plan on using it until those terrorists are put on trial."
She has been actively informing people and telling people of how horrible life under ISIS can be. At the Cairo University she  reportedly revealed that Isis militants "used to force captives to pray and then rape us".
"We were not worth the value of animals. They raped girls in groups. They did what a mind could not imagine," she said.
She was taken as a slave by a man with a wife and daughter, who she never met, and kept in a single room. She was told she was his fourth sabia(slave) because the ISIS considered Yazidi as infidels and worthy of being raped. 
After one failed escape attempt, where she jumped out of a window wearing a Muslim abaya, she told the UN, she was beaten up and gang raped by six militants as a form of punishment. She was whipped and then agains passed on to six other men who raped her as well. 
Human rights attorney Amal Clooney and human rights activist Nadia Murad visit the Secretary-General Of The United Nations Antonio Guterres at United Nations Headquarters on March 10, 2017 in New York City
"They continued to commit crimes to my body until I became unconscious," she said.
Murad was lucky that the strangers she found in Mosul helped smuggle her to a refugee camp.
She says she is raising awareness so that the remainder of the Yazidi girls be rescued from the ISIS because shae says: "I want to be the last girl in the world with a story like mine."
Last Updated Mar 31, 2022, 12:51 PM IST