What to expect from an operated tour and a shoestring trip to London
How does one compete against Pound and survive to tell the tale?
Here are a few tips and ideas on how you could possibly reduce cost of living while in the British capital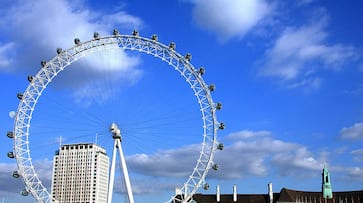 With today's frantic lifestyle and lack of time, planning a trip can be quite tiring and time consuming. Not everyone has the patience to research every other thing and make decisions. To cut out all the planning and managing and just be able to enjoy your vacation, there are travel agents who conduct tours that take you wherever you want to go without the hassle of arranging for the requirements.
Today I am with Shreyas Nair who is talking to us about his trip to Europe with a tour service.
Q: What kind of a traveller are you? – Luxury, Midrange, budget or backpacker?
A: I am usually between a midrange and budget traveler. If I'm travelling with my family or wife, I go for midrange. When travelling alone, I am a complete budget traveler. I stay in places which are economical so that I don't end up spending more money on just accommodation.
Q: What kind of destinations do you prefer to visit – archeological, nature dens, cityscapes, or adventure trails?
A: I don't have a preference because I feel that every place has its own charm. But I am not a big fan of art galleries and museums.
Q: Do you prefer planning your own trips or hiring a travel agent/ tour operator? Why?
A: I prefer planning my own travels as it gives me control over the destinations that I would like to visit instead of sticking to an itinerary that is laid down by a tour company. It gives me the flexibility of doing things at my own pace unlike conducted tours wherein you have to stick to their timelines and plan.
Q: Have you ever hired a tour operator to plan your trip?
A: Yes, in 2012, I travelled to Europe with my parents. This was booked through Thomas Cook and the package included 4 countries – UK, Switzerland, France and Italy.
Q: Did you do any research on which tour guide to go with? Why did you hire them?
A: I wouldn't call it research but I had two options in mind – the popular Thomas Cook and Kesari Tours. Both were through word of mouth. I ended up choosing Thomas Cook because most of my friends who had booked holidays through them, gave me very good feedback about them. Hence, I preferred going ahead with them.
Q: Tell us about your experience with the tour company and the process that they followed in planning your itinerary.
A: I approached Thomas Cook with the countries that I wanted to visit and my budget. Based on this, they chalked out an itinerary. We discussed the budget with them so that we don't overshoot what we had planned for this trip. The plan was very meticulous, and they even picked out the cities that we would be visiting in each of these countries, travel, accommodation, local transport, food, etc. was done by them.
Q: Was it well organised? Did they follow the itinerary to the T?
A: It was very well organised not just because of the tour guide, but also because fortunately we had a great group with us who were punctual and respected everybody's time. So, we never ran late or missed places due to lack of time. We had ample time to experience everything on the itinerary.
Q: How many people were on the same tour?
A: In London, which was the first city on the itinerary, we were about eight people including us. In Paris another 25 people joined us for the rest of the tour.
Q: How was your tour guide?
A: He was excellent. He was very well informed and never rushed us at any location. In fact, he managed time so well that in Switzerland, we not only extended our stay for another couple of days without hampering the itinerary, we were also upgraded to Ramada, near Mount Titlis, from our originally booked 2-star hotel.
Q: How much did it cost per person?
A: Approximately 1.5 to 1.6 lakh per person. The only things that were not included were the Lido Show in Paris and Disney Land. These were optional sites that one could choose to go to if they wanted. But they would have to buy tickets additionally.
Q: How long was the trip?
A: 2 weeks including 2 days of travel.
Q: Pros and cons of tour travel according to you
A: Pros:
You really don't have to put in much thought about the places to visit, accommodation, food, transportation
Everything is paid for in advance except for personal expenses like shopping etc
Cons:
You don't have the leeway to revisit a place that you may have liked.
If you are unlucky enough to get a group that is basically a nuisance, then your trip might get ruined because of them. Unfortunately, you cannot choose the other people on the tour with you.
Q: What would be the important things to keep in mind while on a conducted tour?
A: There are a few things that one needs to keep in mind while travelling with a group of strangers to have a smooth travel experience.
Be on time. Respect the schedule and other's time.
Be prepared with additional money, medicines and any additional personal items that you may need during sightseeing.
Be mentally prepared for not-so-good food. Restaurants are preselected by the tour guides and may not have what you want or like. You will have to be able to adapt to that. There is no point in getting into a row with the guide there.
Have a basic civic sense. Don't litter the tourist attractions or the buses. Littering is frowned upon in most countries. You are not allowed to eat in the buses in Europe.
Follow any kind of rules and regulations that the city might have.
Don't destroy property… this includes the buses. That means, no scribbling on the seat back in front of you or scratching the windows or tearing the curtains… you get my drift.
Q: Which cities did you visit?
Interlaken
London
Paris
Interlaken
Mount Titlis
Florence
Rome
Vatican City
Pisa
Venice
Hope this gives you a bit more information on what to expect. Obviously, it won't be convenient for me to document every city in one article, so this will be a series where I will write about each place in a separate blog. Let's start with London!
London is one of the most expensive cities of the world. And that statement is quite unnerving for many people who do not have a huge budget but would still like to experience the city. How does one compete against Pound and survive to tell the tale? Here are a few tips and ideas on how you could possibly reduce cost of living while in the British capital.
Be smart about when you go
Heathrow Airport
There isn't really a cheap period for London. However, hotels offer the best deals during all months except summer (July - August) and Christmas. Best months to travel would ideally be between January and February.
TRAVEL TIP: Try booking flights to Heathrow instead of Gatwick. Heathrow is in London whereas it takes about an hour's drive to get to London from Gatwick.
The budget guide:
Budget (up to £85)
Dorm bed: £12–30
Market-stall lunch or supermarket sandwich: £3.50–5
Many museums: free
Standby theatre tickets: £5–25
Santander Cycles daily rental fee: £2
Midrange (£85–200)
Double room: £100–200
Two-course dinner with glass of wine: £35
Temporary exhibitions: £12–18
Theatre tickets: £15–60
Top end (more than £200)
Four-star or boutique hotel room: more than £200
Three-course dinner in top restaurant with wine: £60–90
Black cab trip: £30
Top theatre tickets: £65
Tipping (Tipping is essential in London and is considered rude if you don't)
Hotels Pay a porter £1 per bag; gratuity for room staff is at your discretion.
Pubs Not expected unless table service is provided, then £1 for a round of drinks is sufficient. Do not tip at the bar.
Restaurants Service charge often included in the bill. If not, 10% for decent service, up to 15% if exceptional.
Taxis Londoners generally round the fare up to the nearest pound only.
Go around London without burning holes in your wallet:
The cheapest way to get around London is with an Oyster Card or a UK contactless card (foreign cardholders should check for contactless charges first) if you are going to be there for more than a couple of days.
TRAVEL TIP: If you are in London for just a day or two, I suggest buying a day pass instead of Oyster Card. This allows you to unlimited tube trips through 24 hours. This is accepted on a few buses as well.
Tube (London Underground): The fastest and most efficient way of getting around town. First/last trains operate from around 5.30am to 12.30am and 24 hours on Friday and Saturday on five lines.
Train: The DLR and Overground network are ideal for zooming across more distant parts of the city. Trains run from a number of stations to more distant destinations in and around London.
Bus: The London bus network is very extensive and efficient; while bus lanes free up traffic, buses can still be slow going.
Taxis: Black cabs are ubiquitous, but not cheap. Available around the clock.
Bicycle: Santander Cycles are great for shorter journeys around central London.
Now that we have the basics under control, you need to understand the areas in London before you book your accommodation. Everything depends upon the area you choose to stay in.
Understand London Districts:
A street in London
West End - Very central, expensive, 4 stars dominate, close to theatre and nightlife, tedious airport transfers.The theatre district (but not all the West End theatres) and much of London's nightlife is in this area. West End includes:
Leicester Square and Covent Garden
Mayfair and Piccadilly
Oxford Street and Marble Arch
Bloomsbury - Very central, walkable to West End, not a budget district but cheaper than West End and wider range of hotel types. Attractive district to stay.
County Hall - Very central, good base for sightseeing not so great for nightlife, shopping. Mostly luxury large 4-star hotels but with some notable budget exceptions. Cheaper rates at weekends, holiday periods.
Victoria - Major transport hub and a great base for sightseeing. Not the cheapest, but not the most expensive. Cheaper during working week. Best area if you are flying into Gatwick.
City of London, Tower Bridge, London Bridge - Business dominated area with high prices during working week, attractive ones at weekends and holidays. Inconvenient for Heathrow Airport.
Kensington - Value for money district in all grades of accommodation. Using Heathrow and one eye on the wallet? - Kensington should be a benchmark district for others to beat.
Kings Cross, St Pancras & Euston - If low cost is your number one purchasing criteria, Kings Cross Bed & Breakfast hotels should be checked out. Great area to use as a base to explore London from, nothing much in district itself.
Paddington - Value for money district. For convenience if you are arriving at Heathrow, this comes out number 1. Good area to use as a base to explore London from, nothing much in district itself.
Bayswater - Budget hotel district. A pleasant district bordering Hyde Park. Dominated by cheap independent hotels. Find the right hotel and its a very nice district to stay in.
Budget stay :
Green Rooms Hotel
The cheapest hotel accommodations are the so -called Bed and Breakfast hotels.
Be not in doubt, these are not homely houses with a couple of rooms rented out by attentive family owners. These are small simple hotels, with none of the frills.
TRAVEL TIP: Recommended accommodation - Green Rooms Hotel (opposite Wood Green tube station, just 12 minutes from King's Cross and 20 minutes into Central London on the Piccadilly Line.)
However, note that this is far from both Heathrow (I hour 13 mins by tube) and Gatwick (1 hour 30 mins by car).
Dorm beds: Artist rate starts from £18 and normal rates from £24; Doubles (room-only): artist rate starts from £72 and normal rate is £84 (Artists: please reserve rooms directly with the Green Rooms Hotel:  )
Budget restaurants –
Ravi Shankar, Drummond Street (Euston Station)
This bhelpuri house offers South Indian treats as well as the usual rice and curry at very reasonable prices. For best value, BYOB and turn up on a Sunday for the all-you-can-eat buffet.
Indian Veg, Chapel Market (Angel Station)
At £4.95 for an all-you-can-eat buffet, Indian Veg offers diners cheap stomach-filling curry and unintentional humour in equal measure.
Loong Kee Restaurant, Kingsland Road (Dalston Kingsland Station)
Loong Kee and its sister BYOB eateries offer authentic dishes for under a tenner. The perfect hearty stop-off before a night in hipsterville.
E.Mono, Kentish Town Road (Kentish Town Station)
Must try the kebabs, fresh salads and floury wraps. Olive obsessives should also check out nearby Phoenicia, a Middle Eastern supermarket with every variety under the smoggy London sun.
A few more joints that you could look into –
Kathi Rolls Company, off Oxford Street on Poland Street (Egg and Aloo roll)
Dhishoom, Covent Garden (Butter Chicken and Black Dal)
Masala Zone in SoHo (Mumbai style Pav Bhaji)
Salt, Edgeware Road (Bhel and Dahi Puri with varieties of Whiskey and Sheesha)
Sagar, Covent Garden (South Indian Thalis)
Soaking London in:
Even though you may be strapped for cash, there are numerous things that you can do for free in London!
Breakfast up high
Enjoy spectacular views over London with breakfast at The Shard. Although you are only(!) on the 31st floor, the stylish and delicious restaurant, Aqua Shard, provides views almost as stunning as the ones from the top. What's more, it's cheaper. The express breakfast prices begin at just £9 and a full English breakfast costs £18.50, far less than a ticket all the way to the top. Reservations are required as the restaurant is very popular.
Open: Breakfast is served Monday to Fridays from 7am to 10.30am (9am to 10am at weekends)
Call to reserve your table
Nearest tube: London Bridge
Lock up
Every night, for the past 700 years, the lantern-lit 'Ceremony of the Keys' has taken place in the Tower of London to secure the Crown Jewels. It's the oldest military ceremony in the world and includes interactions between the Chief Yeoman Warder, the Yeoman Warder 'Watchman' and members of the Tower of London Guard, lasting 35 minutes. Tickets to watch this grand tradition are free of charge, but are incredibly popular and must be booked online up to months in advance.
Price: free
How to book: Book online and bring your e-ticket on the day. No waiting list is available
Opening times: Visitors are admitted to the Tower under escort at 9.30pm and the ceremony concludes at 10.05pm (no late arrivals are permitted, so don't be late!)
Nearest Tube: Tower Hill
Cave dwelling
Take a trip to the suburbs to explore London beneath the surface in Chislehurst Caves. The labyrinth of tunnels was originally excavated for their chalk, and have been variously used as an air-raid shelter, an ammunition dump and as a rock and folk venue where Hendrix, Pink Floyd, the Stones and David Bowie have performed.
Entrance to the caves is by guided tour only
Tours: Lamp-lit guided tours leave hourly, on the hour, between 10am and 4pm and last 45 minutes. No need to book
Price: Tickets cost £6 for adults and £4 for children
Nearest train: Chislehurst
Borough Market
There's vintage architecture, full-sized pirate ships and independent shops that surround the indoor market, and plenty of weird and wonderful vendors on the inside selling some of London's best fresh and cooked street food! 
Price: Free!
Nearest train: Borough Market
Hop-On Hop-Off Bus Tour
The best way to see London in an economical way is on a Hop-On Hop-Off bus tour. Buy a 24-hour ticket and enjoy unlimited travel around London in that period. Plus, get a free walking tour and a free river tour included with your bus ticket.
You can hop on hop off as many times as you want, giving you the chance to explore areas and sights in more detail.
A live tour guide, or audio guide, is available in the following languages: English, French, German, Spanish, Italian, Japanese, Portuguese (Brazilian) and Russian. There is also free Wi-Fi available on the bus.
The bus will drive through the following attractions:
Tower of London
Buckingham Palace
Westminster Abbey
Oxford Street & Regent Street
Royal Albert Hall
Shakespeare's Globe
St Paul's Cathedral
Trafalgar Square
TRAVEL TIP: Sit on the upper deck for better views and photographs!
Buses depart every five to 10 minutes from the main tourist points, and every 15 to 20 minutes elsewhere.
The bus tour also entitles you to a free walking tour - choose from the Royal London tour, or the Beatles' London tour.
A free Thames boat ride is also included in the trip, allowing you to see London's iconic skyline from the river.
Save even more money by buying a ticket which includes entry to one of London's major attractions, including The Tower of London, The London Eye or Madame Tussauds.
Apart from these hidden treasures, here is a list of tourist attractions that are a must do while in London:
Kensington Palace
Kensington Palace
London Dungeon
The Shard's
SEALIFE London and Science Museum
If you are looking at locations where TV shows and films have been shot, these are your must-dos!
Warner Bros. Studio London Tours
If you are amongst those who are missing their Hogwarts letter, why not be proactive and go up there to ask for one? If you are in London, and you are a Potterhead, you must go here!
Experience the true Harry Potter filming sites for yourself with a guided sightseeing tour in London, during which you can see how locations such as the Leaky Cauldron are brought to life and learn some film set gossip and pop culture facts. Explore by foot, bus, or boat. Bonus: most tours include a photo stop at the iconic Platform 9 ¾.
If you prefer to call yourself a Pure Blood and don't care much for muggles, then the Private Tours are ideal for you. For a Potter experience with an iconic London twist, book a private tour by black cab.
Downton Abbey (Highclere Castle)
The TV series Downton Abbey has been a worldwide success triggering an explosion of interest in people wanting to visit Downton Abbey itself, in real life Highclere Castle.
Highclere Castle is situated about 45 miles (72km) west of central London. The nearest large town of any consequence is called Newbury which is connected to London by train.
TRAVEL TIP: You can only buy tickets through the official website - https://www.highclerecastle.co.uk/When you purchase your ticket you will need to select an AM. or PM admission time. The Castle will open its doors at 10.30am, afternoon admission to the Castle will begins at 1.00pm.
Confirmed opening dates 2018
Easter – Open from Easter Saturday 31st March to Sunday 15th April (open every day).
Early May Bank Holiday – Sunday 6th May to Tuesday 8th May.
Spring May Bank Holiday – Sunday 27th May to Tuesday 29th May.
Summer Opening – Sunday 8th July to Wednesday 5th September (open Sunday to Thursday every week).
Getting to Highclere by public transport from London
Highclere Castle is around 5 miles (8km) south of Newbury. There is a very limited local bus service (around 4 or 5 buses a day) between Newbury and the village of Highclere. Trains from London's Paddington Station run broadly at hourly frequencies throughout the day to and from Newbury. A taxi from the station forecourt should cost about £15-£20 in each direction to/from Highclere Castle.
So far we've done food, accommodation and sightseeing. But we are missing a key experience in London. Yes! Shopping! London is one of the most exciting shopping destinations being in the heart of Europe's fashion.
Here's a guide to the best shops in London for your ultimate London shopping experience.
Nearest Tube: Oxford Circus, Bond Street or Tottenham Court Road
Regent Street and Jermyn Street
Nearest Tube: Piccadilly Circus or Oxford Circus
Nearest Tube: Bond Street or Piccadilly Circus
Nearest Tube: White City or Shepherd's Bush for Westfield London, and Stratford for Westfield Stratford City.
Nearest Tube: Oxford Circus or Piccadilly Circus
Nearest Tube: Covent Garden or Leicester Square
Nearest Tube: Sloane Square
Nearest Tube: Knightsbridge
Nearest Tube: Bond Street or Piccadilly Circus
Nearest Tube: Camden Town
Nearest Tube: Notting Hill Gate, Ladbroke Grove or Westbourne Park
Nearest Tube: Canary Wharf

I hope you are not petrified of travelling to London now and that this article has given insight on both booking a tour and doing London on a shoestring budget. Stay tuned for the next destinations!
Deea is an Influencer Marketer, content creator, traveller, photographer and blogger.
Last Updated Mar 31, 2022, 2:02 PM IST