Video: This Muslim preacher tells men that wives are like farms and they can be entered as you please
Muslim man claims Holy Book Quran tells men how to have sex with their wives
He says women are like fields for men where they can enter whenever and from wherever they like
If a couple indulges in sex from behind then children will be born with a squint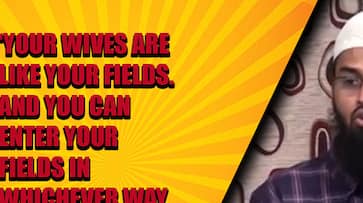 There is no dearth of people telling couples how to lead an effective sex life. Often one sees religion dictating how one must lead their married life and how to plan and beget children.
In this 2013 video, a Muslim Cleric who goes by the name  Advocate Faiz Syed is seen advising the listeners on how to and ways to have sex with their wives. Syed is described in the video description as the Founder and President of the Islamic Research Centre in Aurangabad among others designations. It further says Syed has spoken on more than 150 topics and 6500 question and answers on YouTube and has given 1500 lectures on various subjects on Islam and comparative religion in Urdu.  The video achieved virality now when a twitter user uploaded an edited portion of the video which was originally posted on the IRC TV YouTube feed.
Watch video:
Best video on internet ...

— REBEL ( Urdu ) (@Gadhvilaxman) November 5, 2017
For couples this is his advice:
Allah kehte hai tumhari auratein tumhare liye khetiyan and tum jis tarah se apne kheti mein aana chaho, tum aao.
Allah says your wives are like your fields and you are free to enter her/field from wherever you want
Tum  jahan se chaho wahan se apni biwion mein dakhil ho
From wherever you want you can enter your wife
Agar biwi ke peeche khade hoke kiya jaye to auladein bhengi paida hoti hai
He then goes on to talk about sex from behind being an improper practice and how children born out of this kind of union the child is born with squinted eyes.
If one were to hear his videos one could understand the kind of misogyny and patriarchy he is openly promoting. The comments sections this video preacher, is filled with men nodding to what Syed says and even inquiring on how to divorce their wives and other questions related to the act.
More than once he quotes the scriptures in Islam and says it is written and those who do not understand such words have no brains.
Women are constantly likened to a man's property, sometimes a woman's permission is mentioned fleetingly, but overriding powers are given to the husband according to Syed.
This is what twitterverse had to say on the man's advice:
Islam constantly receives backlash because of some preachers who promote and propagate negative thoughts about women and how Muslim men should treat their women. By quoting the scriptures, such preachers proclaim to be lending veracity to their interpretation of the Quran and unfortunately women become the victims of such thought.
Last Updated Mar 31, 2022, 12:56 PM IST