Tree house in Barmer for environment protection message
Environment enthusiast builds treehouse in Rajasthan
Spread awareness on environment protection
Treehouse attracting tourists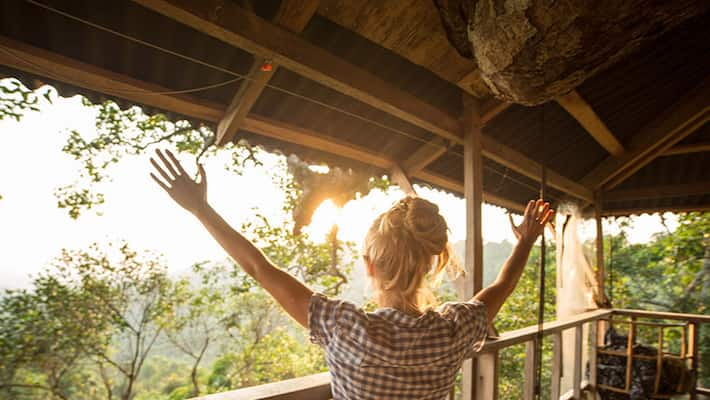 The house made of plywoods has been installed and fixed on the branches of Khejri tree by Khamisa Khan, who hails from Barmer and is presently living in Jaisalmer.  Khan said that he wanted to give a message of environment protection, therefore, he got the structure of the house prepared at a cost of  ₹1.5 lakh and installed it on the Khejri tree- which is of immense significance culturally and economically in the desert state.


Rajasthan's state tree — Khejri — covers about two-thirds of the total geographical area of the state. It supports rural economy like no other wild vegetation does.  The tree house is in Nimbasar village of Barmer and Khan is making a second such tree house in Jaisalmer.


The house can be accessed through ladders and can accommodate four persons. It has one door and three windows.  "The environment today is in danger and I am disappointed at the deforestation and uncontrolled cutting down of trees. My initiative is to give message that trees protect us and the environment so they should be loved and protected," Khan said.  Since last month several tourists both domestic and foreigners have visited the tree house and appreciated the move, he added.


Khan is an activist spreading awareness on environment protection through an NGO for the last two years.  Khejri or Jandi is an indigenous tree, which effectively stabilizes sand dunes. It has a significant economic and environmental importance too.


The Khejri tree plays a vital role in maintaining the ecosystem of the dreary Thar region because of its ability to survive in such tough conditions and the different ways in which it can be used by the farmers. Apart from being a source of firewood and fodder, the Khejri also helps in sustaining nutrient value of the soil and ensuring a good yield.


In addition, the fruit is used to make the very popular local dish 'Sangri' and can fetch up to ₹300 per kilo for the farmers.
Last Updated Mar 31, 2018, 6:54 PM IST