These are the zodiac signs of some of the world's richest people
See if you share the same zodiac as these billionaires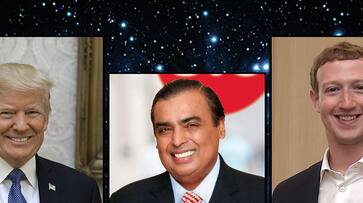 We take a look at the zodiac signs that govern some of the famous billionaires in the world . If you share the same zodiac as them, then maybe you have lessons to learn from what they are doing. Check it out
Jeff Bezos - Capricorn
Jeff Bezos is a billionaire entrepreneur known globally as the founder and CEO of Amazon.com. He is also the owner of The Washington Post newspaper
Mark Zuckerberg –Taurus
Mark is an American computer programmer and Internet entrepreneur. He is a co-founder of Facebook, and currently operates as its chairman and chief executive officer.
Mukesh Ambani –Aries
He is the chairman, managing director and largest shareholder of Reliance Industries Limited, a Fortune Global 500 company and India's most valuable company by market value
Lakshmi Mittal- Virgo
Indian steel magnate, based in the United Kingdom. He is the chairman and CEO of ArcelorMittal, the world's largest steelmaking company. 
MA Yusuff Ali- Scorpio
Middle East retail king M.A. Yusuff Ali is the founder of LuLu Group.
Anil Ambani- Gemini
Indian business magnate. He is the chairman of Reliance Group and forms the second half of the Ambani duo. Elder sibling being Mukesh Ambani.
MG George Muthoot –Scorpio
MG George Muthoot runs Muthoot Finance, India's leading lender against gold.
Azim Premji – Leo
He is a business tycoon, investor, and philanthropist, who is the chairman of Wipro Limited. He is informally known as the Czar of the Indian IT Industry
Elon Musk  - Cancer
Elon Reeve Musk is a South African business magnate, investor, engineer, and inventor. He is the founder, CEO, and CTO of SpaceX and he plans to take people to Mars when he is not busy with Tesla.
Donald Trump – Gemini
The President of the United States of America, what's more powerful than this?
Last Updated Mar 31, 2022, 1:02 PM IST