Can tattoos cause cancer?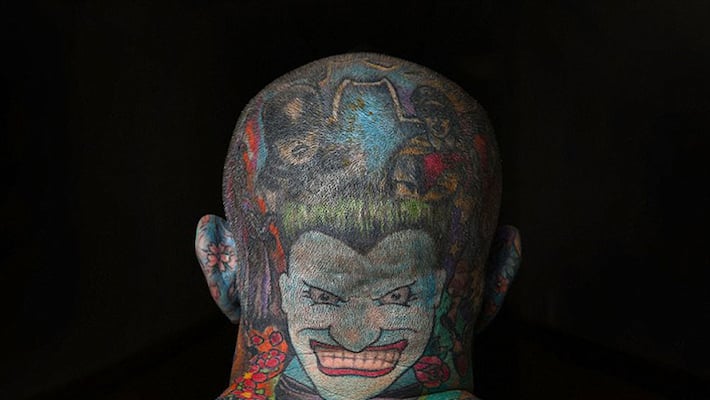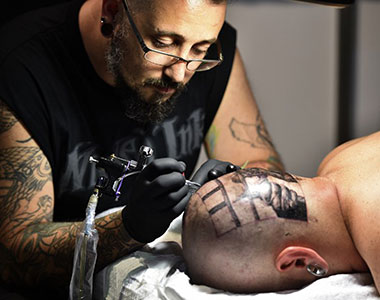 Have you noticed this instruction on hair colouring sachets: "Apply some colour on the skin and wait for 24 hours. If you find an allergic reaction please don't use it on your hair?"
But do you see this skin testing done at tattoo parlours, and why are they considered to be dangerous? 
 
A tattoo may contain the name of our loved ones, or the depiction of our favourite pictures, but concealed in this artistic designs are hidden disasters. Studies say "though the tattoo is an art on the periphery of the skin it may pass some adverse effects into the bloodstream of the body." 
However, if you still wish to get yourself tattooed, it is advisable to only visit parlours that use organic ink. There are only a few professional centres that use organic inks since such inks are imported from England, America and Australia are quite expensive. Local shops use Chinese inks in order to attract the customers with their low prices. These inks, however, are harmful and may have an adverse effect on one's skin. Tattooing poses a risk of infection to everyone, but for those with pre-existing heart conditions, diabetes or  a compromised immune system, the risk is much higher. Allergic reactions have been reported right after tattooing as well as years later, so you never really know whether you're out of the woods. America and other countries have already banned the usage of Chinese inks. 


The proportion of toxins and chemicals are high in Chinese tattoo inks. The blue ink contains cobalt and aluminium, and the red ink contains mercurial sulphite, zinc, cadmium, chromium, nickel, titanium and some heavy zinc also. These chemicals can wreck havoc if they enter your bloodstream. After the tattooing with chemical inks, one would notice that the blood around the skin gets burnt and the areas around the tattoo confect a kind of allergy; often, rashes too may be found. Dr. Kalyan Shetty a skin specialist says, "Skin is one of the most vulnerable parts of our body. Risks can be avoided if the tattoo needles are fresh and the ink used in tattoo shops are organic," while Tattoo Artist, Selviraja adds, "Such blunders don't crop up in all Tattoo centres. Since the tattoo needles are expensive, people try to use the needle again. Tattooing with organic ink is safe and advisable."


 
Here are 5 reasons why you should only visit professional tattoo parlours:
Tattoo needles are costly. A low priced parlour may end up using a single needle on many customers. This could lead to contracting infections like HIV, and Hepatitis B and C.
 
The use of chemical inks could lead to the possibility of cancer, therefore, dermatologists do not suggest tattooing.
 
If low-quality inks are used, the tattooed part of the body when exposed to sunlight starts to itch. This is because the skin resists the chemicals of the tattoo, and the reaction to the sun leads to the skin burning.
 
The pain of tattooing may cause fever gradually.  
 
Chemical inks can cause blotches that may mix together with the tattoo design and make it look patchy.
Last Updated Mar 31, 2018, 6:32 PM IST