Snow falls on Sahara Desert for the first time
Snow fell on the largest desert in the world - The Sahara
It was captured by photographer Karim Bouchetata
The last time it snowed, was 37 years ago, when there was a snowstorm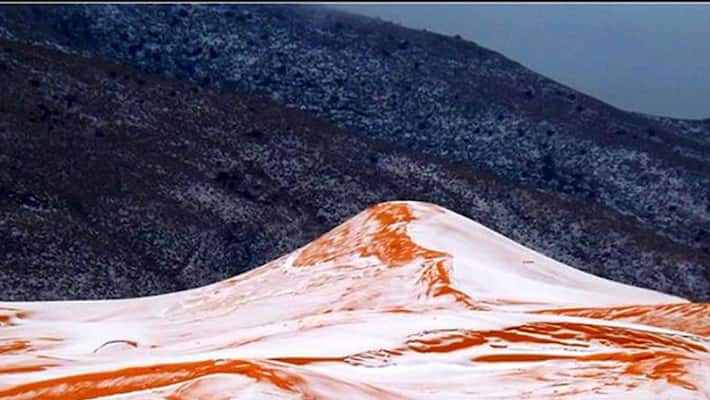 Here's a chilly reminder that global warming is a not a figment of imagination.  The world's largest desert, the Sahara, had snow on its sands.
The last time it snowed on the deserts was 37-years-ago, and that was because of a snowstorm in 1979.
According to the YouTube poster, Geek Attitude, "The small town of Ain Sefra in Algeria witnessed an exceptional event on 19 December 2016. For the first time in 37 years, it has snowed in the Sahara. The snow remained for a day in the city surrounded by the mountains of the Atlas which is about 1,000 meters above sea level."  
 Algerian photographer Karim Bouchetata who took the photo of this unusually rare photo, said, "Everyone was stunned to see snow falling in the desert, it is such a rare occurrence. It looked amazing as the snow settled on the sand and made a great set of photos," according to a report by the Independent.

 
Last Updated Mar 31, 2018, 6:39 PM IST