All about rangoli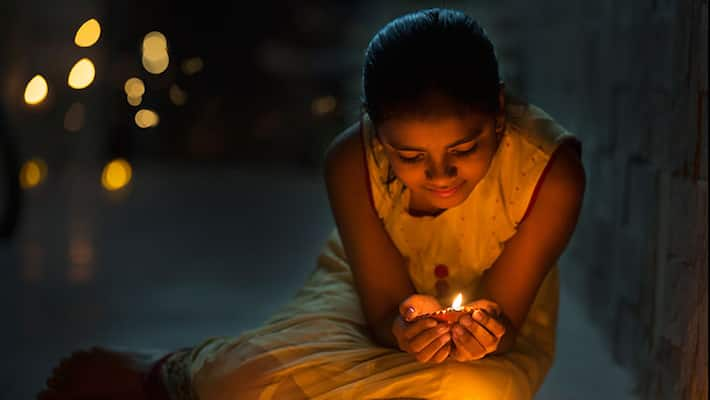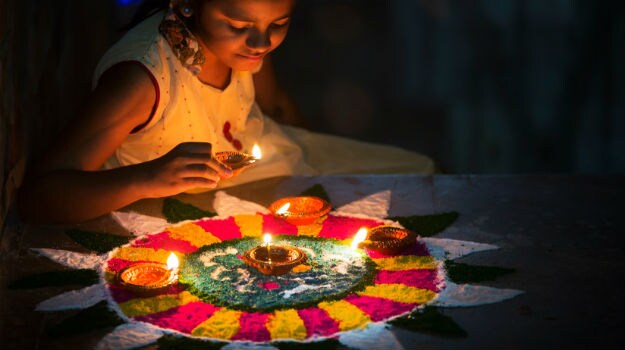 The term "rangoli" is derived from the Sanskrit word "rangavalli" which means rows of colours 

In India, most Hindus put Rangoli in front of their houses and courtyards by using common materials like dry flour, coloured sand and sometimes with flower petals as a decoration. It is a traditional and practiced Indian art, and is designed in various colourful patterns and dimensions. It is customarily observed on special occasions like festivals such as Diwali, marriages, birthdays, engagements, house warming ceremonies and so on.
 
Considered to be an auspicious sign, rangoli is usually placed either at the threshold of the house, tulsi plant or pooja room. During festivals and other auspicious events, it is customary for the women to have a bath first, and then decorate the courtyard with rangoli before moving on to the rest of the activities scheduled for the day.
Rangoli is said to have 5000-years of history. The ancient Indus civilization had Rangoli art, and its history reveals that they practiced it in their daily routine, and thus Rangoli has become a part of Indian culture and tradition. Right from Kanyakumari to the Himalayas rare rangoli patterns are said to be prevalent among the tribes as well.
 
Rangolis can be also decorated with flowers - as popularly seen in Kerala


In Kerala, during Onam, rangoli is decorated with various flowers, which is a special attraction.
The term "rangoli" is derived from the Sanskrit word "rangavalli" which means rows of colours. The beauty of this art is that it is drawn freely without the use of any tools like a ruler, thread or a brush. Their dexterous fingers move freely in an artistic way like a skilled artisan. Usually, a coarse powder obtained by pounding a lustrous mineral called shirgola is used in rangoli.
Before applying rangoli, the women  cleanse the specified floor area with water and after it dries, the floor is smeared with cow dung as it is believed to have cleansing properties in it. They, then apply the rangoli to the floor in various patterns, sizes and colours.  The most commonly-seen designs are the star and lotus.
What is the significance of rangoli?
The significance of rangoli lies in its Hindu rituals and practices. One of the reason's that this intricate decoration is placed in front of the house is because it is believed to ward off any negative energy and vibes before entering one's house. The intricate pattern is also said to trap negativity before it enters one's house and wreaks havoc.  In addition to this, rangolis are considered to be a ceremonial decoration invoking the good spirits and deities to bring good luck to the family.
Last Updated Mar 31, 2018, 6:59 PM IST