Tucci, who also has a nine-year-old son from a previous marriage and two young daughters with her husband, has shared the overwhelming task of caring for her precious bundles.
The couple changes 350 dirty nappies a week and feeds each infant eight times a day. "No-one thought I could do it, and I did. I showed everyone in my life. So, I think it's the first time that I've actually been proud of myself," Tucci told a television show.
The chance all babies would survive and be healthy was incredibly low. But, over a gruelling 27 weeks, Tucci's body grew to accommodate each infant - each weighing more than a kilogram by the time she gave birth. 50 obstetricians and nurses managed to deliver each healthy baby in under two minutes, and said Tucci had a "super womb."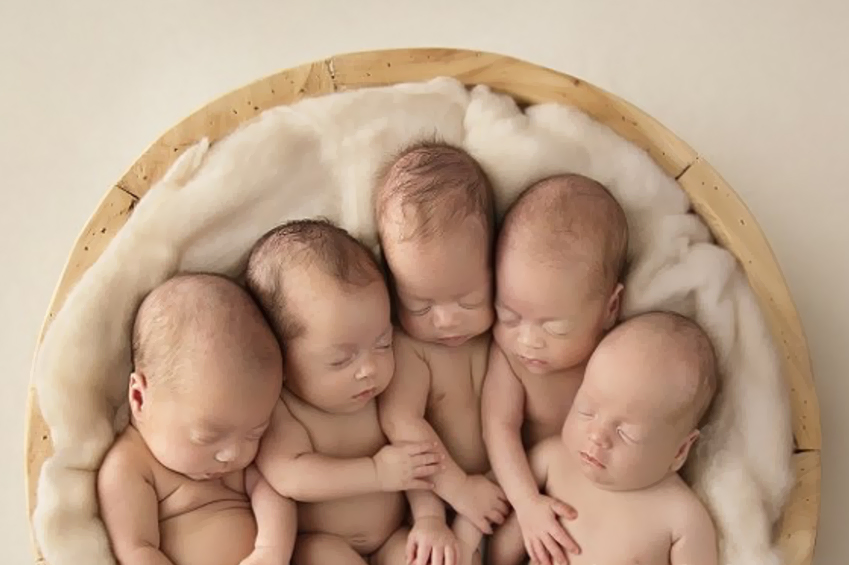 The quintuplets were rushed to intensive care and were monitored for 24 hours a day for six weeks until they grew  strong enough to return home. For each child, she breastfeeds 8 times in a day. The couple gets daily help from  her family and volunteers to care for the quintuplets. They use feeding, changing, and sleeping charts to monitor  each infant.
 During her pregnancy, Tucci wrote about her intense struggles with back pain, 12 bathroom trips a night, and  consuming the recommended 6,000 calories a day to feed her five babies. "I'm struggling to eat and force feed  myself leaving me with reflux for hours," she wrote on her blog.
 At 24 weeks along, photographer Erin Elizabeth took photos of the expecting mum to commemorate her  journey. The images became a hit on Tucci's website, and Elizabeth's social media.

A GoFundMe page has been started to help the Tuccis' buy a nine-seater car, so they can safely get out and about as a family.