Mumbai teen illustrates forgotten heroines of Indian history
Seeking inspiration from history, a 17-year-old high school girl in Mumbai set to change the perception of feminism in India which has always been considered as a Western concept.
An "absolute" believer of feminism, Tara Anand took up the task to digitally illustrate the lesser-celebrated queens of India who've been overshadowed by strong masculinist kings and emperors in Indian history.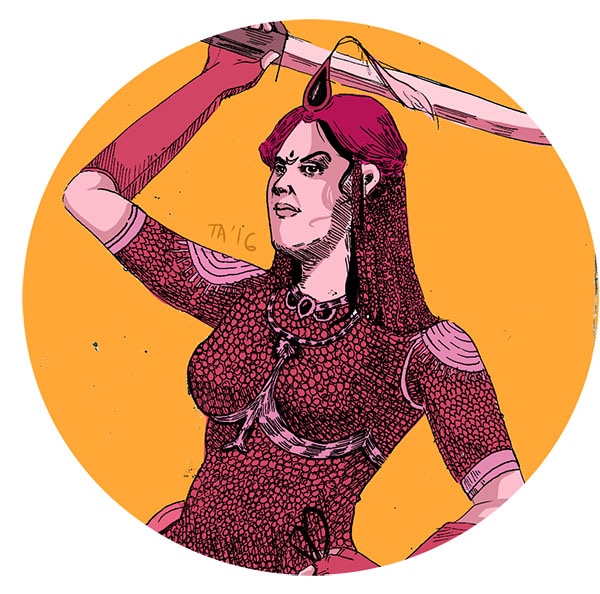 Rani Rudrama Devi - a ruler of Kakatiya dynasty in the Deccan Plateau
"I have always been interested in History, but one thing I noticed was that the most prevalent narrative in Indian history is dominated almost entirely by male historical figures. I honestly couldn't believe that there weren't any significant female figures in Indian history, especially those in power. So I decided to do some research!" said Tara.
She added, "Needless to say, I was completely overwhelmed by the number of queen regents and warrior queens I had stumbled upon. I was shocked that I'd never so much as even heard of them! I think that needs to change."
Taking up the challenge, Tara started an illustration series called 'I AM NO MAN'. 
An ardent fan of the famous book trilogy Lord of the Rings, Tara coined her illustration series after the character Eowyn, a noblewoman of Rohan who has been described as a shieldmaiden. "Eowyn's display of courage inspired me to name my project as a tribute to lesser-known women warriors from India," Tara added. 
"Representation is important which can either make or break the views and mindset of an entire society. I strongly felt that these women needed some appreciation and so I decided to make it as my project," said the ambitious teenager.
Speaking about women empowerment, Tara believes, "I think women should not underestimate the potential and power they possess in every field. If more women are active in every field, the more visibility and diverse representation they will have and the easier it will be to restore equality."
Mastani - skilled in horse-riding, spear-throwing and swordsmanship
Brought up by art-enthusiastic parents, Tara was drawn to art from a young age. The Anands' planned their family vacations keeping in mind of the various museums they wanted to visit.
Tara Anand, the illustration artist behind 'I AM NO MAN'
"I cannot jot down a particular year when I began practising art. But it was in the last five years that I started taking up actual projects. I've learnt the art of illustration all by myself," Tara said.
When asked about her inspiration to be an illustrator, Tara recollected, "I don't even remember when I consciously decided that I wanted to be an illustrator, it was always kind of by default. Although I bounced around with wanting to be an animator, a painter and a comic book artist."
She hopes to become a professional illustrator and use her skill to work on storybooks and graphic novels.


You can view more of her illustrations of the 'I AM NO MAN' series here.
Last Updated Mar 31, 2018, 6:41 PM IST