KFC runs trial tests to replace plastic bowls with edible ones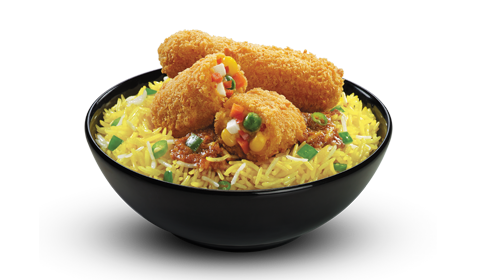 This is one of the most popular item on the KFC Indian menu. It will be replaced with a tortilla base that doubles up as an edible bowl

Be prepared to be bowled over. Literally.

The popular Rice Bowlz that comes in vegetarian and non-vegetarian options, and used to be served in plastic bowls will now be replaced with an edible, crispy and crunchy base from freshly-made tortillas. 

This deliciously eco-friendly move will have a trial run for a week, starting from today (April 28, 2016) in Bengaluru only. If these tortilla bowls are flying off the shelves, then a pan-Indian, and even a global move would be considered. The price will remain the same. The vegetarian option will be priced at Rs 89, while the non-vegetarian option will be priced at Rs 105 (chicken popcorn) and Rs 135 (fiery grilled) respectively.
 
In response to the Karnataka government's ban on plastics last month, KFC India came up with this innovative idea. This is not the first time it's happened, either. In 2015, KFC in the UK had planned an edible coffee cup called the Scoff-ee Cup.

Image Source:  https://www.kfc.co.in/ and http://static.abplive.in/ 
Last Updated Mar 31, 2018, 6:46 PM IST