Indian students shine at International Philosophy Olympiad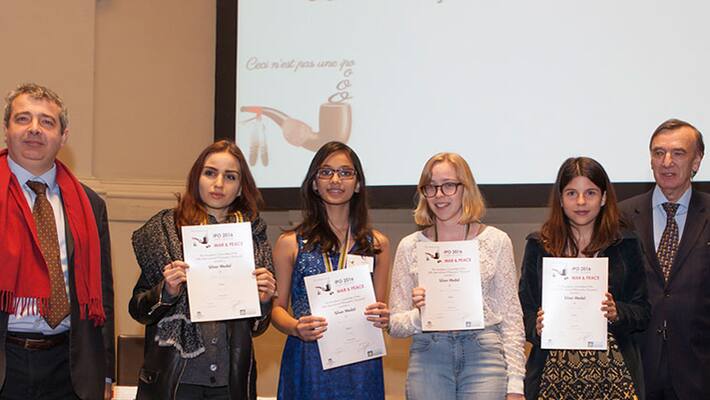 Two 17-year-old Indian students won laurels at the 24th International Philosophy Olympiad, a philosophy competition for high school students from across the world, held in Belgium recently.  While 17-year-old Drishtti Rawat from Noida won a silver medal, Lucknow-based Tathagat Bhatia, also 17, received an honourable mention.  

India secured an overall third position in the competition where 90 students from 44 countries were required to write essays on a particular topic. This year the main topic was 'War and Peace.'


The students from India were awarded for their essays based on the philosophy of Greek philosopher Aristotle who postulated that human emotions are universal irrespective of the language being used to convey them.

  According to Kedar Soni, Coordinator of Indian Philosophy Olympiad, words are incomplete without intonations, which in turn originate from emotions. For example, he says, when somebody says 'Accha' in Hindi it can be interpreted to mean either an expression of shock or simply okay or under some circumstances can be interpreted to mean an act of thinking. 
"Two persons can see an object in different ways but the object remains independent of the mind. Take for instance the word 'love'. The desire of love will remain the same but two different artists can use different forms and styles of painting to depict it. So it all stems from similar desires,  just the way you depict, it can differ. And this is also a reason how my fellow contestants and I bonded well despite differences in languages," says Rawat.

 Meanwhile, Bhatia says different connotations to the same word can cause confusion and conflicts due to simple misunderstanding.  "Sometimes my friend interprets my text messages as sarcasm or anger when in reality I intended it to be neither. In text messages you don't hear the voice to know the exact meaning and hence you can often end up with wrong interpretation of a sentence," says Bhatia.

Soni says the Olympiad honour is especially significant for India since most countries who win at the competition teach philosophy at school level in some form or the other.  "It's only before entering the international forum, that the selected students are intensively trained through lectures and workshops at Abhinav Vidyalay in Mumbai's Dombivli," he says.

India has been participating in the competition since 2007 and students are chosen through a two-stage process, which include tests to gauge students' logical and verbal reasoning skills besides an essay writing competition. 

The International Philosophy Olymiad (IPO) is an International Science Olympiad, which is affiliated with the UNESCO.
Last Updated Mar 31, 2018, 7:04 PM IST