Disasters: How to increase your chances of survival in a crash
Disasters are unexpected and can happen anywhere when travelling
Here are some handy tips to increase your chances of survival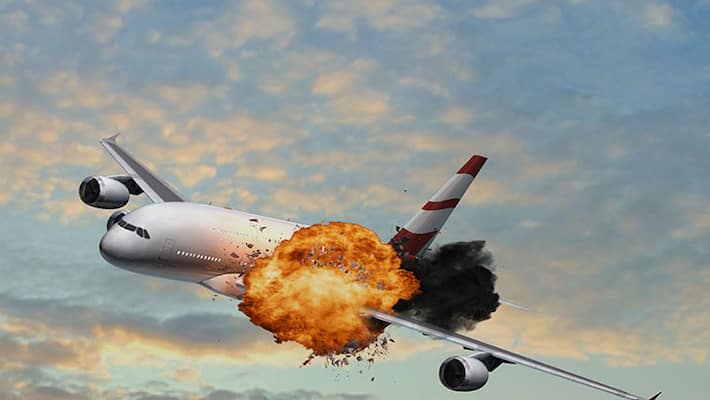 An errant cyclist that suddenly pops out of the hedges on a highway, or a  technical failure while flying, accidents can happen on land, water and air when you least expect it; but, you can increase your chances of survival by being prepared.
Here's what you need to keep in mind, should you be faced with a prospect of a crash.
 
Aeroplane crashes: 
The difference between life and death in the event of a plane crash is only 90 seconds. Use it wisely.

1. Read the instructions:
Let's face it, no one really pays attention when the safety instructions are enacted; much less reads the pamphlet that's tucked away in the seat. But you will be surprised to know how much you can benefit from it. Because you will be prepared, (as opposed to panicking) thanks to the instructions you followed.
2. Aisle be there for you:
The chances of your survival is dependent on where you sit. So, opt for seats that as close to the nearest exists, or opt for an aisle seat no matter which side of the plane your assigned because it helps you escape quicker than say by a window seat.  This graph shows you your chances of survival. 
3. Footwear: 
Always keep your footwear on when the plane takes off and lands. You can choose to remove it, once the plane is on cruise mode. The reason for doing so is simple: when a plane crashes, there is going to be a lot of shrapnel and other assorted debris. Wearing footwear, will minimise injuries to the foot, and help you escape quickly, instead of losing time wearing your footwear.


4. Wear proper clothing:
Ensure that you're wearing something thick like a sweatshirt, because that can minimise the damage in case of fire, and fire can spread rapidly. Similarly, opt for spectacles instead of contact lenses.
5. Oxygen masks:
As soon as the mask falls down, immediately put it on as it only takes a few seconds for you to lose consciousness.
6. Take the lead:
In disaster situations, a majority of people look to be led by an authority figure – and this does not necessarily have to be the air hostess or steward. Become one by being informed, cool and collected when a crisis happens.
Train Crashes:
The likelihood of head-on collisions are rarer in trains. Most train accidents occur because of derailments.
1. Coaches:  Much like planes, it doesn't really matter where you sit. However, you can save yourself if your coach happens to be in the middle of the train according to Live Science.
2. Seats: Ideally, choose seats that are backward facing. So, in the event of the crash, you will move away from the crash, as opposed to towards it.
3. Aisle vs Windows:  Much like planes, an aisle seat is preferred.
Last Updated Mar 31, 2018, 6:44 PM IST