Explore Paris on a shoestring budget
Paris is the land of love where romance comes to flourish
The very Parisian air could make you fall in love with its cobbled streets and ancient architecture
Here's a low down on how to go about planning your trip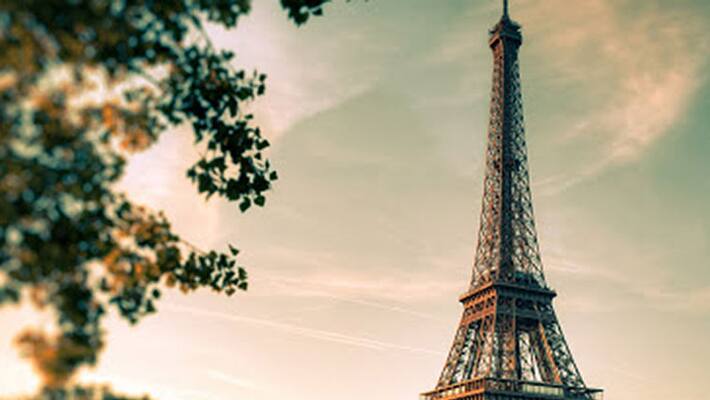 Continuing the series from my previous article on London, Paris is the land of love where romance comes to flourish. The very Parisian air could make you fall in love with its cobbled streets and ancient architecture. But planning a trip to the romantic city can be intimidating… where to stay, how to go about it and how expensive will it be. These questions can take up a lot of your time. Hence, to make your life a little simpler, here are a few tips and tricks to visit Paris on a shoestring budget.
​
WHEN TO GO
Spring (especially April and May) and autumn (especially September and October) are ideal. Summer (June to August) is the main tourist season but many establishments close during August. Sights are quieter, and prices lower during winter (November to February).
TRAVEL TIP: Unless you are a major fashion fanatic, I would suggest staying clear of Fashion Week. It is one of the most expensive time to be in Paris and hotels are booked ahead so you will find it difficult to get a place if not booked way in advance.
Paris Air Show is another time of the year when Aerospace and Defence Manufacturing and Engineering giants flood to the City of Lights to show off their loot. You might find that most business/budget hotels are booked during this time.
How much will you spend:
BUDGET 

 

MIDRANGE

TOP END 

(up to €100)

(€100–250)

(more than €250)

 

Dorm bed: €25–50
Coffee/glass of wine/demi (half-pint of beer)/cocktail from: €3/3.50/3.50/9
Excellent self-catering options, especially markets
Frequent free concerts and events
Public transport, standby theatre tickets

 

Double room: €130–250
Two-course meal: €20–40
Museums: free to around €12
Admission to clubs: free to around €20

 

Historic luxury hotel double from €250
Gastronomic restaurant menu from €40
Designer boutiques
The sky is the limit!

 
Tipping
Taxis Taxi drivers expect small tips of between 5% and 10% of the fare, though the usual procedure is to round up to the nearest €1 regardless of the fare.
Restaurants French law requires that restaurant, cafe and hotel bills include a service charge (usually 15%), and many people leave a few extra euros.
Bars & Cafes Not necessary at the bar. If drinks are brought to your table, tip as you would in a restaurant.
Hotels Bellhops usually expect €1 to €2 per bag; it's not necessary to tip the concierge, cleaners or front-desk staff.
WHERE TO STAY
While booking a hotel in Paris, you need to keep in mind that the rooms at every hotel are small and don't have much space to move around. However, they will still be over-priced.
I would recommend using Airbnb to book your accommodation.
SOAKING IN THE CITY:
The most convenient and economical way to see Paris is on a Hop on hop off bus tour. Yes, like London, Paris has these amazing tours which allow you to buy a 1 day or 2 day pass and you can hop off and hop on any bus on any route depending upon where you would like to go and what you plan to see.
TRAVEL TIP:

Choose the Paris Grand Tour route to see iconic attractions like the Notre-Dame Cathedral, the Louvre Museum, the Arc de Triumph and the Eiffel Tower.
For an alternative experience, opt for the Montmarte – Grands Boulevards route and see elaborate structures like the Gare du Nord, Gare de l'Est and Grands Boulevards. Take the Montparnasse–Saint-German route and disembark at mysterious spots like the Catacombes and Invalides to discover the dark side of the City of Light. Soak up a history lesson on the Bastille-Bercy route and see ancient highlights like the Gare de Lyon, the Parc de Bercy and the Bastille.
Each route lasts between 1 and 2 hours and buses depart every 10, 15, 20 or 30 minutes depending on the route selected. Please see the Itinerary section below for a detailed list of stops serviced on each route.
You can book your tickets through Viator. You can also download the app so that it's easier to book tours while on the move as well!
If this doesn't work for you, here is a sample itinerary for sightseeing in Paris for 4 days:
Day 1:
Paris Big Bus Tour - Normal entry €33.00
​
Louvre Museum - Normal entry €15.00
​
Notre Dame Cathedral - Normal entry €10.00
​
Panthéon - Normal entry €8.50
​
Day 2:
The Orsay Museum - Normal entry €12.00
​
Paris Opera House - Normal entry €15.50
​
French Wine Tasting - Normal entry €30.00
​
Day 3:
Set in Paris Walking Tour - Normal entry €25.00
​
Picasso Museum - Normal entry €12.50
​
Centre Pompidou - Normal entry €13.00
​
Montparnasse Tower - Normal entry €15.00
​
Day 4:
Seine River Cruise - Normal entry €15.00
​
Arc De Triomphe - Normal entry €12.00
​
Grevin Wax Museum - Normal entry €23.50
​
TRAVEL TIP: With a 4 Day Paris Pass, you would save over €63 – which also includes a free Metro ticket – so the benefits are obvious!
WHERE TO EAT?
​
If you want to splurge, you can always go for a nice prix-fixe lunch. There are several great lunch deals ranging from €14-23 that will fill you up in style, and help you save later with a light dinner.
Depending on where you are in Paris and how nice the restaurant is, you can find prix fixe lunch menus ranging from around €14 all the way up to €40.
For those other times when you'd like to reign in your budget, here are a few cheap and delicious options to keep in mind. 
The fries from Du Clercq – Les Rois de la Frite
The crêpes from Au P'titGrec
The pastries from La Pâtisserie Cyril Lignac
The vegan food from Tien Hiang
The Jewish Ashkenazi specialties at Sacha Finkelsztajn
The éclairs from L'éclair de génie
The falafels from L'As du Fallafel
Kurdish sandwiches from Urfa Dürüm
Ice cream from Berthillon ice cream
The ramen at Higuma
All the sandwiches from Chez Alain MiamMiam
Anything from Du Pain et des Idées
The sandwiches at Gustave Pigalle
The tapas and cold cuts plates at L'Avant-Comptoir
A Phở from Le Kok
Bob's Kitchen's veggie stew
The noodle bowls at Happy Nouilles
A nice breakfast from Café Lomi
The salads from Chez Papa
WHERE TO SHOP
Paris is the fashion capital of the world! It would be a disaster if you go to Paris and don't shop. So here are a few places that you should definitely check out while there.
Boulevard Saint Germain, Bon Marché & Rue Du Bac
Location: 5th, 6th and 7th arrondissements, Rue de Sèvres, Boulevard Raspail, Rue du Bac, Boulevard Saint Germain
Métro: Sèvres-Babylone (10, 12), Rue du Bac (12), St-Germain-des-Prés (4)
Grand Magasins On Boulevard Haussmann, Rue Tronchet& La Madeleine
La Maroquinerie Parisienne
Everything is 15-20% cheaper here. The selection of bags and luggage is good, and you'll get your 20% détaxe refund after spending €150. Look for the display window and then walk up to the first floor.
Monoprix
Located just off Boulevard Haussmann behind Printemps and Galeries Lafayette, take a break from the big department stores to shop at the Monoprix store. Here you'll find great deals on fashions as well as make up, skin care products, home décor and a little of everything in between.
Location: 8th & 9th arrondissements, Place de la Madeleine, Rue Tronchet, Boulevard Haussmann, Place de l'Opéra
Métro: Madeleine (8, 14), Havre Caumartin (3, 9), Auber (RER A), Opéra (3, 7, 8), Chausséed'Antin – Lafayette(7, 9) 
Triangle D'or
This is the heart of Paris' Haute Couture shops and the finest fashion houses in the world, including Dior, Chanel, Ferragamo, Dolce e Gabbana, Prada, Valentino, Bulgari, Gucci and many more. 
Opening Hours: Most stores are open from Monday to Saturday, from 10 am – 7 pm. Remember that if you aren't ready for the price tag of an original Chanel suit, the Paris sales are in January and July and are often well worth a visit.
Location: 8th arrondissement, The Triangle d'Or is the posh neighborhood contained by Avenue George V, Avenue Montaigne and Rue François 1er
Métro: Alma Marceau (9), George V (1)
OFF THE BEATEN PARIS
Paris's bustling trade shows:
​
Twice a year, the Salon des Vins et VigneronsIndépendants assembles more than 500 winemakers from every corner of France, all offering a taste of the goods. A small fee buys you entrance and a tasting glass, so you can sip, swill, or spit out all day long (there's also an aisle for gourmet snacks and sandwiches). The world's biggest chocolate event, the Salon de Chocolat, held every fall, features everything chocolate, from the bean to the finest pastries, plus tastings and a chocolate fashion show !
The Basilique Saint-Denis:
A mere 20 minutes from central Paris on metro line 13, France's most celebrated Gothic cathedral, Saint Denis was named for the patron saint of Paris. A masterpiece of Gothic and Romanesque architecture, the church was built over a 150-year period beginning in 1136, and is the final resting place of the kings and queens of France—including Louis XVI and Marie Antoinette. With so much history to take in, a guided tour in English, available by reservation, is recommended.
The Real Taste of Paris:
​
VizEat invites travellers to dine at a Parisian's home for a real taste of la vie Parisienne behind closed doors. Whether you want an informal dining experience enfamille or a romantic gourmet dinner for two, the sky's the limit. Ever wondered about those mysterious French dishes like tête de veau or lapin à la moutarde? VizEat allows you to select from a huge variety of menus, locations, and styles to suit your inclination.
Dance the Night Away:
​
Seasonal public balls are a long-established, deeply Parisian tradition that few tourists know about, let alone experience. To celebrate Bastille Day, two nights a year—on either July 13 or 14—every city hall in Paris and its suburbs hosts a bal des pompiers(firemen's ball), starting at 9 pm and lasting into the wee hours of the morning. Dancing, eating, drinking, and revelryare all part of the fun.
Live Concert in a Historic Paris Church:
​
There's no better way to make the spirit soar than to experience a live concert in a historic Paris church. Savor the strains of Bach's sonatas for solo violin under the glorious jewel-like windows of gothic masterpiece Sainte-Chapelle (built in the 13th century to house a holy relic from Christ's crown of thorns). Concerts begin at 7 pm and last an hour. Package tickets, including dinner or a post-concert glass of champagne, are a nice way to round out a festive evening. 
The Secret Montmartre Food Tour:
​
The food tour starts in Montmartre, one of my favourite areas in Paris. Think of the tour as a flash course in Parisian dining culture. It also gives guests an opportunity to sample a variety of baguettes, half a dozen delicious cheeses, French wine, and luscious meats. But that's not all. You can also sample an array of French desserts – macarons, chocolates, crépes – you name it. 
Street Art Lover's Den:
​
Spend an afternoon exploring the quirky Rue Denoyez, a lane crammed with graffiti, street-art, and murals, followed by a drink at the legendary Café Aux Folies (an Edith Piaf favourite) and you'll understand why we love this whimsical neighbourhood so much.
Closest Metro Station: Belleville (Lines 2 and 11)
TRAVEL TIP: A word of warning. Avoid Place Du Tertre like the plague during summer months. It is crowded and crammed with make-shift restaurants. Instead, head to the neighbouring Emile Goudeau Square, which houses La Bateau Lavoir, famed in art history as Picasso's studio from 1904-1909 and the birthplace of Cubism.
DAY TRIPS FROM PARIS
For day trips from Paris, rent a car and head out. Pick and drop off your car at the Charles De Gaulle Airport so you can avoid the crazy traffic and expensive parking in downtown Paris.
The Palace of Versailles
​
Versailles makes for the perfect day trip from Paris. You will start your day beaming as you pack your backpack for the day and hop onto the RER train from Paris to Versailles. Once there, you will pore over the map, or better still, just follow the crowds, and find yourself at the mighty gates of the Palace of Versailles before you know it. WRONG!
The queues at Versailles are mind numbing to the point that you might even reach the palace gates when it's time to close the place. To avoid such a painful experience, here is a trick – book a private tour to the palace in advance and get priority access all thanks to your tour guide!
TRAVEL TIP:

Versailles is 20 kilometres away from Paris. It is easily accessible by public transport.

Versailles has a lot more to it than just the Palace. Make sure you explore the city, especially the local markets.

Easy Pass' Skip the Line Tours run seven days a week. More information and options can be found on The Easy Pass Tours website.

The cost of the tour includes the price of train tickets (to/from Paris), lunch, wine-tasting, and tickets to the Palace of Versailles.
A few other day trips that you could easily book on Viator.com are:
Normandy D-Day Battlefields and Beaches Day Trip
Mont St.-Michel Tour
Bruges Day Tour
Loire Valley Castles Day Trip 
I hope this article has helped you understand a few things about Paris. Paris has a lot to offer to any kind of traveller. Just note down what you expect from the city, do your research and the city will oblige!
Deea is an Influencer Marketer, content creator, traveller, photographer and blogger.
Last Updated Mar 31, 2018, 6:38 PM IST