Travel to the historic Cambodia
95% of the country's population now follows Buddhism
Its lush green forests, ruined temples oozing history and ancient architecture, the sweetest people and the most amazing delicacies will keep you wanting more
Cambodia is necessary for any bucket list and here's help to plan your travel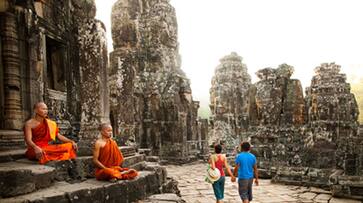 When I first told my mother that I was planning a trip to Cambodia, the reaction that I received from her could not be more dramatic! "Eta ki abar kono jaoar jayega?" ("Is this even a place to visit?") she yelled in Bengali. Did that stop me? Obviously not!
My travels have taken me through many a nature's paradise and yet Cambodia remains my favourite of them all. Its lush green forests, ruined temples oozing history and ancient architecture, the sweetest people and the most amazing delicacies will keep you wanting more.
Even though my visit to Cambodia happened in 2011, I can still remember the warmth and vibrant culture of the country. Cambodia's war stricken history is immediately visible once you enter any of its ruin complexes. 95% of the country's population now follows Buddhism, however, this wasn't the case always. For 600 years, under the Khmer Empire, the kingdom was highly Indianised with temples such as Angkor Wat being used to spread Hinduism. Evidence of the religion can still be found in the ruined temples which house various Shiva Lingas destroyed by the Khmer Rouge. At Angkor Wat, you will spot the entire story of the Battle of Kurukshetra (from the Indian Epic - Mahabharata) engraved on a stone wall.
I believe that Cambodia is necessary for any bucket list and I am here to help you plan your travel! However, before we delve into the itinerary and essentials for your Cambodia trip, here are a few things that you need to know while in Cambodia.
Top Etiquette Dos and Don'ts for Cambodia
Never shout at someone or criticise them in front of others.
When negotiating, allow the other party to "save face" by giving just a little on the final price.
Be sure to give genuine compliments to people when merited.
When offered a gift, politely refuse at first, but in the end always accept it very graciously with both hands.
As with the rest of Southeast Asia, the head is considered the highest and most spiritual part of a person's body. The feet are considered the dirtiest and least sacred.
Be mindful of Cambodia's tough past by not bringing up sensitive subjects such as war, violence, or the .
Never touch a Cambodian person on the head, even children.
Never raise your feet higher than someone's head.
When seated on the ground, tuck your feet beneath you so that they do not point at someone.
Unless told otherwise, always remove your shoes before entering a home or business.
Do not use your left hand to touch, eat, or hand someone something.
Pointing with your index finger is considered rude. Instead, gesture with your right hand palm-up.
Etiquette around Buddhist Monks and Buddhist Temples 
Women should never touch a monk or hand anything to them; even the monk's mother may not do so.
If a monk is seated, you should sit also before starting a conversation.
Monks are not allowed to eat after noon - be mindful by not eating or snacking around them.
Avoid sitting higher than seated monks.
Do not touch a Buddha statue and ask for permission before taking photos. If you do take photos, drop a small donation in the box.
Now that we have this out of the way, let's start planning!
When to go?
Low Season (May–Sep)
The rainy season means emerald-green landscapes and awesome cloud formations. Big accommodation discounts and protective cloud cover make this a great time to visit the temples. South Coast can be busy as Western visitors escape for summer holidays while school is out.
Shoulder (Apr & Oct)
In April and May the mercury hits 40°C and visitors melt. October and November are an excellent time for exploration as rains taper off while the dusty dry season has yet to begin.
High Season (Nov–Feb)
Cooler and windy, with almost Mediterranean temperatures. Book accommodation in advance during the peak Christmas and New Year period.
How much will you spend:
Budget

Midrange

Top End

               Rs. 3,500

             Rs. 3,500 – 13,000

           Rs, 13,000 and more

Cheap guesthouse room: US$5–10
Local meals and street eats: US$1–3
Local buses: US$2–3 per 100km

Air-con hotel room: US$15–50
Decent local restaurant meal: US$5–10
Local tour guide per day: US$25

 

Boutique hotel or resort: US$50–500
Gastronomic meal with drinks: US$25–50
4WD rental per day: US$60–120
Tipping:
Tipping is not traditionally expected, but in a country as poor as Cambodia, tips can go a long way.
In hotels tips are not expected outside the fanciest hotels, but 1000r per bag plus a small tip for the cleanerwill be a nice surprise.
Restaurants: A couple of thousand riel at local restaurants will suffice; at fancier restaurants you might leave 10% on a small bill, 5% on a big bill.
Remorks & Moto Drivers: Not expected for short trips, but leave a dollar or two for half-day or full-day rentals if the service was noteworthy.
Temples: Most wats have contribution boxes – drop a couple of thousand riel in at the end of a visit, especially if a monk has shown you around.
Service Charges: Many of the upmarket hotels levy a 10% service charge, but this doesn't always make it to the staff.
How to get there?
Phnom Penh International Airport is the gateway to the Cambodian capital, while Siem Reap International Airport is best for visiting the temples of Angkor.
Sihanoukville International Airport currently offers just one international flight, daily to Ho Chi Minh City with the largest domestic carrier, Cambodia Angkor Air. Cambodia Angkor Air also has connections from Phnom Penh and Siem Reap to Bangkok, Ho Chi Minh City and Guangzhou; and from Phnom Penh to Vientiane and Hanoi. 
TRAVEL TIP: Note that e-visas are not accepted at Sihanoukville's airport.
Thai Airways and Bangkok Airways offer the most daily international flights, all connecting through Bangkok. Vietnam Airlines has several useful connections, including from both Phnom Penh and Siem Reap to both Hanoi and Ho Chi Minh City along with other connections across Cambodia and Vietnam.
TRAVEL TIP: I would recommend spending as little as possible on flights. Look for budget airlines that service the sectors you are looking for. Useful budget airlines include Air Asia, Jetstar and Cebu Pacific. However, do note any transit visa requirements for any of the transiting countries that you might have in your itinerary.
If travelling through Malaysia, ensure that you book a full-service airline to have a smooth trip. Kuala Lumpur International Airport has two separate terminals for full service and budget airlines. If you book a budget airline, you will require a Malaysia visa as you will have to re-check-in upon arrival in Malaysia.
IMPORTANT INFORMATION: PASSPORT , VISA& TRAVEL INSURANCE
Siem Reap International Airport, some 314 kilometres northwest of Phnom Penh
Not only is a passport essential, it needs to be valid for at least six months or Cambodian immigration will not issue a visa. It's also important to make sure that there is plenty of space left in the passport, as a Cambodian visa alone takes up one page.
TRAVEL TIP: Losing a passport is not the end of the world, but it is a serious inconvenience. To expedite the issuing of a new passport, keep a photocopy of your passport photo page.
Visitors to Cambodia require a one-month tourist visa (US$30) but citizens of Afghanistan, Algeria, Bangladesh, Iran, Iraq, Nigeria, Pakistan, Saudi Arabia, Sri Lanka and Sudan need to make advance arrangements. One passport-sized photo is required and you'll be 'fined' US$2 if you don't have one.
TRAVEL TIP: It is also possible to arrange a visa through Cambodian embassies overseas or an online e-visa (US$30, plus a US$7 processing fee) through the Ministry of Foreign Affairs ().
However, e-visas are only accepted at Phnom Penh and Siem Reap airports (they are not accepted in Sihanoukville), and at the two main land borders: Bavet/Moc Bai (Vietnam) and Poipet/AranyaPrathet (Thailand). Passport holders from ASEAN member countries do not require a visa to visit Cambodia. Ensure that you check these procedures and visa requirements beforehand as these can change without notice.
For visitors continuing to Vietnam, one-month single-entry visas cost US$55 and take two days in Phnom Penh, or just one day via the Vietnamese consulate in Sihanoukville. Most visitors to Laos can obtain a visa on arrival (US$30 to US$42) and most visitors heading to Thailand do not need a visa.
TRAVEL TIP: Make sure you have travel insurance
What to wear and pack:
Khmer women dress conservatively. It's best to follow suit, particularly when visiting wats. In general, long-sleeved shirts and long trousers or skirts are preferred. It is also worth having trousers for heading out at night on motos, as short skirts aren't very practical.
Lightweight, loose-fitting cotton clothing, long-sleeved pants and long-sleeved shirts will protect against mosquitoes and the sun.
Don't even think about wearing jeans - it's just too hot for denim.
Good sunglasses are a must, and wear a sunhat and plenty of sunscreen
Travel light - it is cheap and easy to get your laundry done.
While visiting places of worship, your legs and shoulders must be covered. 
A pashmina or sarong is a versatile item that you can use for sun protection or as a modesty cover-up
Don't forget hand sanitiser, a small medical kit and sewing repair kit.
A towel is another great item to pack
If you are staying in more basic accommodation then take a sleeping bag liner, mosquito net and your own toilet paper.
A torch (with spare batteries) and binoculars are very useful too.
Don't drink or even brush your teeth in tap water.
Look after your mobile phone with a phone bungee - it protects against loss, theft and damage and is especially useful when trekking.
To use electrical gadgets, you may need a travel adapter plug, and a step-down voltage converter if your devices are not designed for the local voltage (230V).
Don't forget your swimsuit. Even if you aren't going to the beach or islands, your hotel may have a pool and swimwear isn't easy to find in Cambodia.
Bring extra memory cards for your cameras!
What to eat
Fish Amok 
I love South-east Asian food. My favourite part of Cambodian cuisine is the variety of fresh herbs and condiments which they readily make available with every meal. So, while you're in Cambodia, check out this list of the best Cambodian food that you need to try.
Fish Amok 
Lap Khmer (Lime-marinated Khmer beef salad)
Nom Banh Chok
Khmer Red Curry
Bai SachChrouk (Grilled pork and broken rice)
Lok lak (Stir-fried beef in brown sauce) 
Kaw 
Num Pang Pâté 
Char kroeung SachKo (Stir-fried lemongrass beef) 
Kuyteav (Noodle soup)

1-week itinerary
While you can obviously spend more time in Cambodia, if you have just a week's time (not including travel time to and from Cambodia), fear not. You can still have an amazing trip and cover the highlights!
TRAVEL TIP: If you are crunched for time, it is better to take flights within Cambodia instead of buses and boats.
Day 1 and 2: Siem Reap
Angkor Wat 
Tourists come to Siem Reap to visit the Angkor temples. For first-time visitors, it's important to understand that there isn't just one temple. The most famous one — Angkor Wat — is just one of many temples scattered in a large area. To visit them, you'll need to buy an Angkor pass. Prices are as follows:
One day – USD 37
Three days – USD 62
Seven days – USD 72
TRAVEL TIP: If you want to see all the temples, then I suggest getting the 7-day pass. But if you want to visit just the major temples, then the 3-day pass will suffice. the 3-day pass is good for any 3 days within one week, while the 7-day pass is valid for any 7 days within one month. You may want to buy your pass at 5 pm the day before you intend to use it. 
I've listed the four most notable temples below. Visiting just those four will still leave you with a fulfilling Angkor experience. 
1. Ta Phrom
2. Angkor Thom & Bayon Temple
3. Angkor Wat
4. BantaeySrei
TRAVEL TIP: If you're into photography and want to get that iconic Angkor Wat sunrise shot, then be sure to get there as early as possible.
I was one of the first people there at 4:30am and I thought I'd have the place all to myself. WRONG. By the time the sun was rising from behind those temple spires, there must have been several hundred of us lined up in 4-5 rows in front of the temple moat. There's only so much real estate to get a clear shot of the temple so I suggest getting there before 5am. Any later and you'll probably need to take your shot over some other tourist's big head.
Where to stay
In Cambodia it is best if you stay near the areas where you plan to visit. This reduces travel time.
Soria Moria Boutique Hotel
Soria Moria is a Norwegian-owned boutique hotel that's conveniently located along Wat Bo Road, just a few minutes' walk from chaotic Pub Street. Pub Street gets loud and rowdy at night so if you prefer a quieter, more relaxed atmosphere, then Soria Moria is perfect. It's also close to many delicious, un-touristy restaurants.
Other hotels near the Angkor temple complex are:
Budget Accommodations:
Treasure Oasis Hotel
Angkor Pearl Hotel
Tara Angkor Hotel
Sarai Resort & Spa
Diamond D'Angkor Boutique
Hotel Somadevi Angkor Resort & Spa
Lotus Blanc Resort
Mid-range and Luxury Accommodations:
Victoria Angkor Resort & Spa
Anantara Angkor Resort
Raffles Grand Hotel d'Angkor
Sala Lodges
Sofitel Angkor Phokeethra Golf and Spa Resort
Park Hyatt Siem Reap
Amatao Tropical Residence
Where to shop
1. PsahChah (Old Market)
2. Night Market
Where to eat
1. Pub Street
2. Soria Moria Boutique Hotel (Wednesdays)
3. Viroth's
4. The Square 24 St.
Day 3 and 4: Phnom Penh
The riverfront area of Phnom Penh that runs along Sisowath Quay, in front of the Tonle Sap River, is popular with locals and tourists alike
Cambodia's capital and biggest city, Phnom Penh has a lot to offer for visitors. Wide French boulevards, colonial architecture and a great selection of cafés and restaurants make Phnom Penh a quieter and more relaxing destination than most other Southeast Asian capitals.
Most of Phnom Penh's nightlife and tourist-focused businesses are located around the Tonle Sap River. Sisowath Quay, which runs for three kilometres along the bank of the river, acts as Phnom Penh's touristic capital and home to most of the city's nightlife.
Here are the main areas of interest in Phnom Penh
1.Riverfront
2.Wat Phnom
3.The Killing Fields
4.TuolSleng Genocide Museum
5.Silver Pagoda
6.National Museum
TRAVEL TIP: Even if you do not have the time or don't want to see all of the places above, I highly recommend going to two of these places – The Killing Fields and the TuolSleng Genocide Museum. As the names suggest, they are places of mass murder and have a haunting past, but they are extremely important locations in the history of Phnom Penh.
The Killing Fields at ChoeungEk,located a short drive from Phnom Penh, are one of several mass graves for victims of the Khmer Rouge regime. Today the site is a memorial to all of the victims of the regime, with a Buddhist stupa located on site.
After the fall of Phnom Penh in 1975, the Khmer Rouge converted Chao PonheaYat High School into Security Prison 21 — a torture and execution centre for dissidents and anyone associated with the previous Lon Nol government.
Today, the high school buildings are TuolSleng Genocide Museum. The museum documents the fate of thousands of people that were executed during the Khmer Rouge period. Many of the museum's buildings are in their original state, as discovered in 1979.
Where to stay:
Budget Accommodations:
Sla Boutique Hostel
Alibi Guesthouse
One Up Banana Hotel
Mid-range and Luxury Accommodations:
VMANSION Boutique Hotel
TEAV Boutique Hotel
The Plantation Urban Resort and Spa
Raffles Hotel Le Royal
Sofitel Phnom Penh Phokeethra Hotel
Sokha Phnom Penh Hotel
Where to shop
Russian Market
Central Market
Russian Market
Where to eat
The Corn (Vegetarian)
Magnolia Vietnamese Restaurant
Oskar Bistro
Ambau Khmer Restaurant
Backyard Café
Friends Restaurant
Day 5 and 6: Sihanoukville
The city of Sihanoukville was named in 1964 after the ruling prince of Cambodia.It became a booming port and its golden beaches caught the attention of Cambodia's jet-setting elite but fell off the map during the tragic reign of the Khmer Rouge and was "rediscovered" and revitalized by the backpacking crowd. It was a lazy beach town until about 2010 when it took off with travelers and is now the premier backpacker party city in Cambodia.
There are three main companies that you can check their time tables and even pre book your ticket online on their websites:
Giant Ibis (most popular)
Mey Hong Bus
Mekong Express
Tickets cost between 10 and 12 USD and the trip takes between 5-6 hours (highly depending on the traffic situation in Phnom Penh). The pick up from your hotel is included so you don't need to directly go to their terminals at the Mekong river promenade near the night market. One bottle of water is also included in the price.
Taxi: About 60-70 USD one way. It's cheaper if you take one from the airport (see below) because it's out of the city and you'll save much time by avoiding driving through all the dense traffic in the center (often as long as 1 hour).
TRAVEL TIP: The quickest way to get from Phnom Penh to Sihanoukville in just about 35 minutes. The two airlines serving this route are:
Bayon Airlines
Cambodia Angkor Air
What to do:
Ochheuteal Beach
Otres Beach
Ochheuteal/Serendipity Beach
TRAVEL TIP: Don't go in the water at Ochheuteal/Serendipity because the sewage pipes empty right out into the harbor in front of the beaches and it's gross. Swim in Otres!
Scuba diving and snorkeling
Wat Leu
Monkey Island
Day trip to Kampot or Kep 
Where to stay:
Hostel Accommodations– Dorm rooms start around $4 USD per night for basic accommodation. Expect to pay up to $10 USD for hostels with better amenities (private bathrooms, hot water, etc.). Private double rooms range from $15-20 USD per night. 
TRAVEL TIP: Best hostel with an awesome pub – Monkey Republic is a must visit even if you don't want to stay there.
Budget Accommodations – Budget hotel rooms start around $10 USD per night for something that is just good enough to rest in.Airbnb is available in the town, though there are almost no options available for shared accommodation. For a private room, expect to pay around $15 USD per night. For an entire home or apartments, prices begin around $20 USD.
TRAVEL TIP: Look for accommodations that are closer to the beach.
Where to shop:
Otres Market
TRAVEL TIP: Every Saturday from midday until midnight the local expats gather together to eat, drink, sell handicrafts, and jam to live music. The market is a delight to the eyes.
Where to eat:
Besides the food stalls that line the main streets, here are a few restaurants that you could try out:
Maybe Later
Sandan
Happa
Blame Canada 
Sihanoukville can become quite expensive especially with drinks and parties weighing down on your wallet. Here are a few tips to make the most of it without going bankrupt:
Many hostels will have free shuttle service around the city. Some even offer it to and from the airport.
Negotiate with tuk-tuk drivers – Make sure you negotiate the price of your ride before taking off. Moreover, don't take the first number they give you — it's inflated. Keep in mind, prices rise around sunset and negotiating becomes more difficult.
There's no reason this country should cost you more than $20 USD per day but if you drink a lot, you'll need a slightly higher budget.
The trend on Serendipity Beach is to advertise with a permanent 'happy hour', which usually implies cocktails for $2-3 USD and draft Anchor beer for as little as $0.75 USD!
TRAVEL TIP: Looking to stay for a while? Talk to the hostel managers and see if they need any extra help. There are tons of jobs that travelers can take on for short periods of time in exchange for some meals and a bed to sleep in. (However, if you are staying for long, ensure that your visa allows it. If not, get an extension)
Off the Beaten Track:
Vat Kor temple, Battambang, Battambang province, Cambodia
If you are interested in trekking, biking, or kayaking through forests, spend a night in Chi Phat in the Cardamom mountains where they have an ecotourism program. You can do a mountain bike trip for 2 nights, deep into the jungle. It's mountainous, pretty, and remote. You may even see elephants. Even if you don't go trekking, you can rent a kayak or a mountain bike from Chi Phat village for a day for only $10 and go off exploring on your own. There are waterfalls and caves only a few kilometers from the village.
There are lots of other areas that you can explore while in Cambodia if you are there for a longer duration. Battambang, Kampot, Kep, Ban Lung and Kratie can also be included in your itinerary.
I hope this article was helpful for all of you who want to tick off Cambodia on their bucket list. Do write in if you have been to any of these places and share your experience!
Deea is an Influencer Marketer, content creator, traveller, photographer and blogger.
Last Updated Mar 31, 2022, 1:01 PM IST