If your sole mission in life is to see only a tiger and/or a leopard do not ever step into a national park
National Parks do not allow bright coloured clothes. You need to blend in with the environment
Stay quiet once you enter the forest. Animals hide if they hear loud noises.
Wildlife sanctuaries or National Parks are the best place to see wildlife in their natural habitat.  Why not go to a zoo instead? Most people do not understand the difference between zoos and sanctuaries. I am here to educate you.
Zoos are places where animals are caged and fed periodically. A sanctuary is a home to the animals where they roam free and feed on their prey. There are no cages or boundaries of any sort (other than the outer boundaries to protect the habitat and inhabitants outside the sanctuary).
Now that you know the difference, let's take you through the planning process for your first wildlife trip.
When to Go:
Like every other trip, you need to first figure out when is the best time to go to a particular national park. Each national park has its own ecosystem and climate variation. You will spot certain animals (like the big cats) and a few birds based on the climate and the time of the year you choose to visit. You can just Google "Best time to go to __________ National Park" and you shall have your answer.
Where to Stay:
Once you have decided which one you would like to go to, you need to figure out accommodations. Many 5-star hotels are located near these sanctuaries if you are in need of one. If you would rather not stay at a luxury property, there are various mid-range and budget accommodations available as well. For example, at Nagarhole National Park (Kabini) you have The Serai as a 5-star property and Jungle Lodges as a mid-range property.
TRAVEL TIP: Avoid Serai. Their rooms are too small (nothing like the pictures on their website), food is horrible, service is horrendous and the staff couldn't be less bothered. Jungle Lodges is the best option. They have big clean rooms, exceptional hospitality and although the food is not that great, they are the only resort that is authorised to conduct safaris at Nagarhole. People staying at other hotels have to come to Jungle Lodges for safaris.
What to Pack: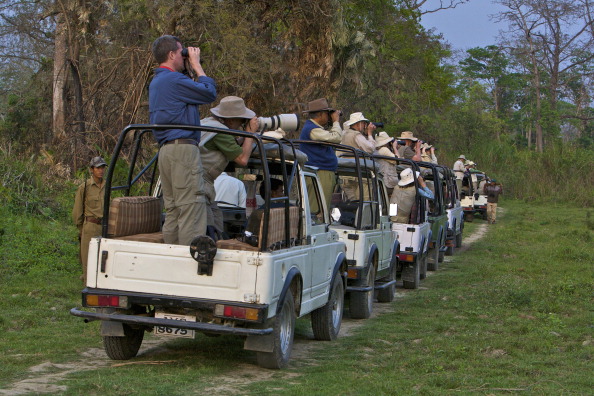 National Parks do not allow bright coloured clothes. You need to blend in with the environment so as not to alert the animals around. Army greens, black, greys, whites, browns are good. Pack comfortable shoes. Please do not wear stilettoes to a safari. 
If going during the monsoons, carry a rain coat. Most jeeps for the safaris are open top and you will get drenched.
If you are planning a winter trip, take heavy woollens. It gets really cold inside the forest.
And of course, don't forget your camera. Wide angle lenses are the best. Anything between a 200 and 600 mm should be great. There is absolutely no point in bringing along a point and shoot. It does not matter if it is a 100MP camera. You will not be able to capture anything. No, you don't have to invest in a DSLR and lenses that can cost you above a lakh. Cameras, lenses and other photography equipment are easily available on rent. However, ensure that your lens works well in low light.
Safaris:
I have been to a few national parks till now – Nagarhole,Ranthambore, Hampi, Ranganathittu, Talakaveri and Muddumalai and most of them are quite standard with their safari operations. Usually there are 2 timings – early morning (around 6am – 9am) and evening (around 4pm – 6pm). It is up to you which one you want to go for. You can go for both as well. Confirm the timings with the reception the previous day to be sure.
Safaris are priced at Rs. 1500 – 2500 per person per safari.
There are different types of jeeps available – open tops, closed tops, four-wheeler jeeps and windowless buses. Each location may have all these or just a few of these options. If you are specific about this, check with the reception.
Dos and Don'ts in National Parks:
I cannot stress enough on how important this section is.
Read up and take notes.
Dos:
Choose a jeep which does not have many professional wildlife photographers. They can be easily identified. They are usually the people carrying cameras with huge lenses that look like bazookas, mostly dresses in camouflage outfits and are boasting about their photographs to surrounding people. Why am I asking you to stay away from them? Because once they spot an animal or a bird, these shutter bugs usually grapple for the best angle and that basically means someone else's lap (sarcastically speaking). You won't be able to see the animal if it passes you by.
Stay quiet once you enter the forest. Animals hide if they hear loud noises. They have way better hearing than humans. If you scream and yell, you will not see anything other than trees.
Listen to the Naturalist. A naturalist is a person who is knowledgeable on the flora and fauna of that national park. They are also the disciplinarians in your safari jeep. If you misbehave, they can deny admission.
Keep the safari jeep clean.
Put your mobile phones in the silent mode.
Don'ts: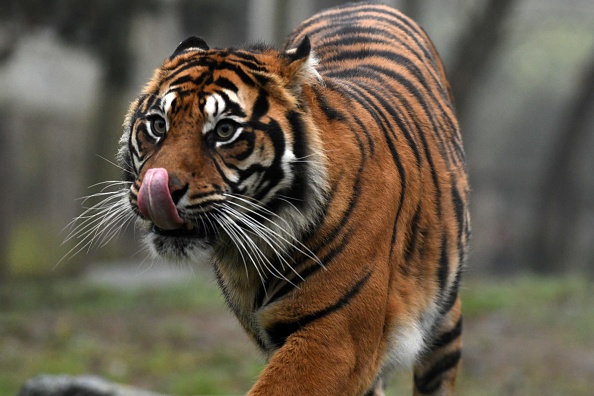 If your sole mission in life is to see only a tiger and/or a leopard it is my humble request that you do not ever step into a national park. Please go to a zoo. They provide guaranteed sightings of tigers. There are people who have gone on 6 to 7 safaris through their entire stay and have not spotted any cats. And there are people who saw tigers with cubs drinking water out of a waterhole on their first and only trip to a national park. It all depends on various factors and squawking sarcastic comments at the Naturalist is not going to work.
Do not talk while in the forest. In my last trip to Ranthambore National Park, this entire family kept talking and yelling to a point when I lost my temper and asked them to shut the hell up. Within minutes of them shutting their trap, we spotted a tiger.
Do not eat in the safari jeep and more importantly do not litter the forest. Animals are all around and plastic and other junk is injurious to their health.
Do not try to feed animals (if they ever come that close to your jeep).
Do not get out of the jeep unless of course you would prefer to become a meal.
Do not ask the Naturalist to extend your time in the forest. Once the gates close, you will be stuck inside for the night in an open jeep without any protection from the same tigers that you were dying to see.
Flash photography is not permitted. Set your cameras before you enter the forest.
Now that we have cleared all this, here are 20 Wildlife Sanctuaries that are a must visit (apart from the ones that I have been to).
Corbett National Park, Uttarakhand
Rajaji National Park, Uttarakhand
Kaziranga National Park, Assam
Manas National Park, Assam
Bhadra Wildlife Sanctuary, Karnataka
Dandeli Wildlife Sanctuary, Karnataka
Kanha National Park, Madhya Pradesh
Bandhavgarh National Park, Madhya Pradesh
Pench National Park, Madhya Pradesh
Sundarbans National Park, West Bengal
Gir National Park, Gujarat  
SasanGir Sanctuary, Gujarat
Periyar National Park, Kerala
Chinnar Wildlife Sanctuary, Kerala
TadobaAndhari Tiger Reserve, Maharashtra
The Great Himalayan National Park, Himachal Pradesh
Bhagwan Mahavir Wildlife Sanctuary, Goa
Hemis National Park, Jammu and Kashmir
Dudhwa National Park, Uttar Pradesh
Sariska National Park, Rajasthan
Hope this was helpful!
Deea is an Influencer Marketer, content creator, traveller, photographer and blogger.