UP villagers think this calf is an avatar of Lord Vishnu. Find out why [Video]
Villagers in Muzaffarnagar in Uttar Pradesh flocked to seek the blessings of a dead calf born with human facial features.
They believe it to be Gokarna, an avatar of Lord Vishnu and plan to build a temple for it.
Doctors say the calf's deformed head is due a to a gene defect.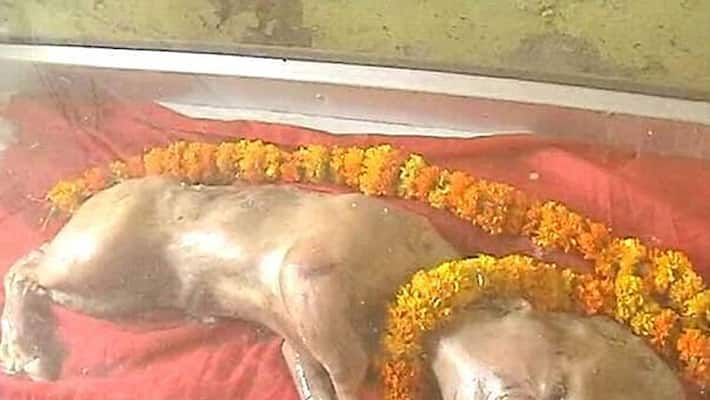 A rare event took place in Uttar Pradesh's Muzaffarnagar. Residents of the area flocked to an animal shelter to seek the blessings of a calf that unfortunately died an hour after it was born. For those living in the area, this calf was an avatar of Lord Vishnu. Why?
Because the calf was born with facial features of a human being. Villagers believed that the calf was Gokarna, one of the 24 incarnations of Lord Vishnu. A few hours later, those living in the area placed the dead calf in a glass box and word spread quickly about the birth of a god like animal.
Videos of villagers seeking blessings and laying garlands went viral on the internet. According to reports, there are plans to build a temple for the calf. Mahesh Kathuria, 50, a local businessman who came to see the calf, said, "God has taken birth from the body of a local cow. We came here to seek his blessings. Religiously, it is an avatar of Vishnu. We believe it's a similar character mentioned in Bhagavata Puran, a Hindu religious text."
The owner of the animal shelter was equally thrilled. Thousands of people have been here to see it. We will be cremating him in three days and a temple will be built for him. This avatar has most definitely created a devotion feeling amongst the people," Daily Mail quoted him as saying. However, doctors said that the cow's facial deformity is a medical anomaly. He rubbished rumours, stating that this could have happened if a gene didn't develop well.
Last Updated Mar 31, 2018, 6:42 PM IST