Idiotic trio think its bravery to click photos in a crocodile trap
The men were seen mounting the crocodile trap and entering it to click photos.
The trap was placed to attract notorious saltwater crocodiles that are known to have killed many people.
Saltwater crocodiles can grow up to a length of 7 feet and weigh more than a tonne.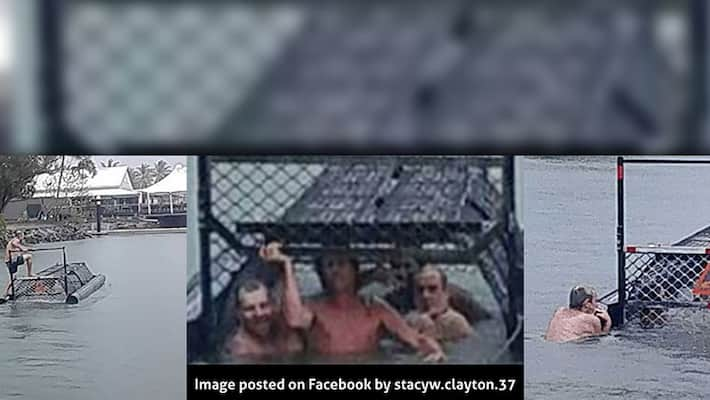 Before we delve into the real story behind our headline, readers please be wary of the fact that the picture that we share with you is not morphed. Although it may seem to be, given the level of stupidity it projects, the pictures are very much real and have been going viral on Facebook. Some 'adventure' lovers may consider it heroic, but trust us, it is nothing short of being idiotic.
The story is pretty much clear, but just for records, the men here are seen climbing a crocodile trap in one of the deadliest rivers in Queensland, infested with saltwater crocodiles. Incidentally, the trap was laid by the authorities after a 79-year-old dementia patient was eaten by a 7-foot beast close to the area. The remains, in fact could still be seen, say authorities. The pictures have reportedly been clicked on a floating trap set near a marina at Port Douglas in northern Queensland state.
Amused at the audacity of the men, Douglas Shire Mayor Julia Leu said that she was stunned at their stupidity. Speaking to broadcaster ABC, she said, "I was absolutely gobsmacked, this is incredibly stupid and dangerous behaviour. I'm wondering if these fellows are vying for the idiots of the year award or the idiots of the century award."
Queensland Environment Minister Steven Miles also tweeted, "Seriously? The meat we put in these traps is bait. For crocodiles. Don't swim in them! It's stupid, and illegal." The environment department further said, "These traps are specifically designed to attract crocodiles and they are deployed in places where a problem crocodile is known to be present. The men's actions were reckless."
Srsly? The meat we put in these traps is bait. For crocodiles. Don't swim in them! It's stupid, and illegal. @qldpol @7NewsCairns pic.twitter.com/nQsUZwI3Wc

— Steven Miles (@StevenJMiles) October 23, 2017
Saltwater crocodiles can grow up to 7 meters in length and weigh more than a tonne. They are generally found in Australia's tropical north and are known to kill an average of two people a year. They were declared a protected species in 1970, but the death of the dementia patient has triggered a new debate. The environment department said, "It is not an exaggeration to say that interfering with crocodile traps can be potentially life-threatening for the person concerned."
In fact, according to a report published by the NDTV, a fine of up to Aus$15,000 (US$11,700) can also be charged for interfering with crocodile trap. 
 
Last Updated Mar 31, 2018, 6:42 PM IST