Android robot Sophia brews up a storm surrounding women's rights in Saudi Arabia, here's why
Women in Saudi Arabia have to wear an abaya, but Sophia is seen wearing none.
She was not even accompanied by a male guardian as required by the women in Saudi Arabia.
She also talks openly about herself and her opinion about the people of Saudi Arabia.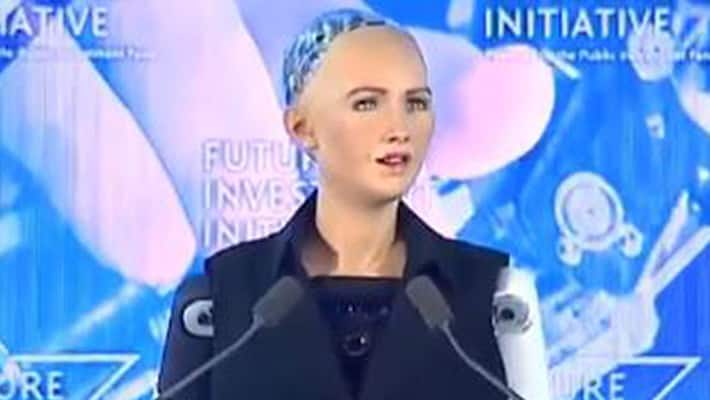 This robot in Saudi Arabia has sparked a debate that has long been brewing up storm in the psyche of the women citizens in the country. The female robot
Sophia, which is a product of the Future Investment Initiative, was given the Saudi Arabia citizenship, along with rights that women are still fighting for in the kingdom. 
Twitter and social media platforms are bombarded with messages from women across the world and from within the province who claim that the robot has more rights than the women here had. 
First of all, she is allowed to speak in the open, putting forth her opinions without even bothering to hide her face. In fact, according to a report by the Independent, a joke hashtag about Sophia asking to drop the system under which every female citizen must have a male guardian. The tweet, in fact, has been retweeted many times. The same report shares the opinions of some Twitter account holders who say, "Sophia has no guardian, doesn't wear an abaya or cover up - how come?" 
Another post, as reported by mashable.com,  hilariously claims that Sophia will soon be seen wearing a hijab. Adding to the sarcasm was journalist Murtaza Hussain who reportedly said that even migrant workers weren't given the same rights that had been bestowed on the robot. He noted, "This robot has gotten Saudi citizenship before kafala workers who have been living in the country their entire lives." Some even Tweeted how Sophia will look if she wore a hijab.
# Sophia_talk_bolts_country Sofia form after period pic.twitter.com/lX8a9V84NK

— IBRA⚖️. (@ibuurr) October 26, 2017
Sofia honey you have no idea what's waiting for you
# Sophia_Talib_Bascat_allayia pic.twitter.com/slbLXgRCkX

— Farah (@fff_xa) October 26, 2017
Women in Saudi Arabia are yet to get their rights to live according to their will. They just managed to earn the right to own a driving license, without the permission of their legal guardians, who in most cases are their fathers, uncles, brothers and husbands. However, they are yet to go a long way to get the rights to travel on their own,  get married to the person of their choice, obtain a passport and travel, without the consent of their guardians.
Last Updated Mar 31, 2018, 6:44 PM IST