Bangalore Literature Fest: 10 not-to-miss quotes by Shatrughan Sinha
BLF 2016 saw many noted authors and speakers attending this annual event.
This two-day event received impressive footfall.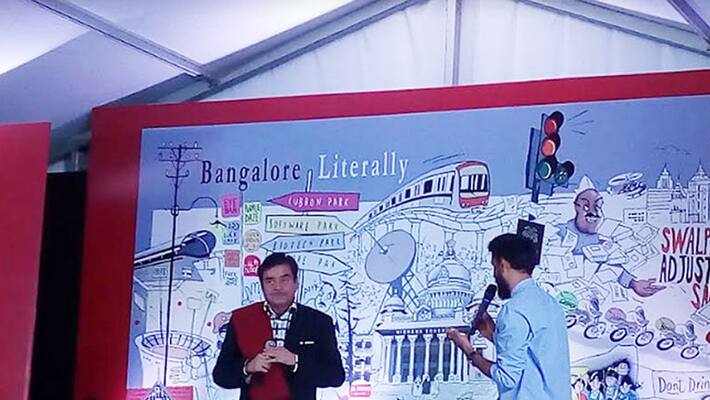 The Bangalore Literature Festival 2016 was a grand affair with some amazing people from literary world attending this annual festival hosted at the Hotel Royal Orchid. Both the days had multiple seasons, book signing, and the audience response was simply overwhelming. 
At this edition of the Literature Festival, noted actor, much-respected politician, and exemplary orator, Shatrughan Sinha also made his debut in a literature fest to promote and talk about his autobiography, Anything But Khamosh. 
The yesteryears superstar who inspired many actors including Rajnikanth,  Chiranjeevi and Ambareesh, is an impressive orator and his session at the literature festival was nothing less than remarkable. He effortlessly connected with the audience and shared some gem of wisdom with a tinge of humour hard to forget and left an impact on everyone. 
The writer of his biography, Bharathi S. Pradhan, and publisher Ajay Mago of Om Books International joined the star on the stage to made this a great session of questions, answers, conversations and revelations. 
If you missed this session, then here are the 10 not-to-miss quotes by the star himself: 
1. I have become from zero to hero without a Godfather only by God's grace and by having confidence in myself. Confidence matters a lot. 
2. The biggest achievement of my life is quitting smoking.
3. Be better than the best or different from the rest, I am different from the rest.
4. I am a one woman man, at a time. You either have to be good or be careful; I am careful.
5. I am a politician and a gentleman too.
6. Actors turn to politics because they think movies have glamour but limited power but politics has power and unlimited glamour.
7. Man must marry after all happiness is not everything.
8. How do I make time for my family? That is why I have family everywhere, everyone I meet I consider them as a family. 
9. Passion is a driving force, once you lose it you lose everything.
And, this one is my personal favourite:
10. If I can, then you can do better than me. 
Last Updated Mar 31, 2018, 6:59 PM IST