A girl challenged a teenager to get 1000 likes for their chat to accept his proposal
The boy posted a screen shot of his chat messages on Facebook
He got over 5,700 likes and the girl accepted his proposal
Social media has been abuzz with challenges for the past few years - some were for a good cause while some for fun and some were down right outrageous! Netizens from Kerala too were part of this, and one or two of them are even using such challenges for their personal gain. 
Last week, we heard the story of a man who put a matrimonial ad on Facebook after he failed to find a suitable bride for seven years. It proved helpful for him, and his mail bod is flooded with marriage proposals. 
Also read: Kerala man looks for bride on social media
The latest in the list is a teenager from Alappuzha who made a Facebook challenge to make his girlfriend accept his proposal. All he had to do was to make a post and get 1000 likes. 
Jishnu, a native of Alappuzha, fell in love with a girl, but the girl was not ready to accept his proposal even after three years. Then he came up with an idea and took to Facebook. He asked the girl whether she is willing to say yes if he gets 1000 likes for their chat on Facebook for which she said okay. 
Jishnu took a screen shot of their chats and posted on his Facebook wall with a message. "Friends, I love this girl for past three years. However, she is not ready to say yes to me. Now, she has agreed to accept my proposal if I manage to get 1000 likes for this post. I love her and won't be able to live without her. Will you help me….. ??????. Please." 
Read his chat message below.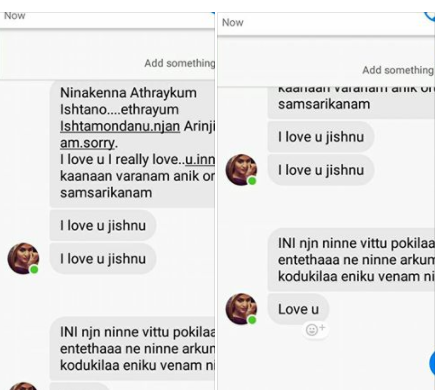 The post got over 5,700 likes, and in 24 hours the girl accepted Jishnu's proposal. The teenager thanked all those who helped him get his love.