Flop yatra exposed double standards of BJP: Pinarayi slams Shah
CM Pinarayi Vijayan alleged that several Union ministers and BJP CMs came to Kerala during the yatra and tried to spread false propaganda
The CM stated that the "shameful performances" enacted by these ministers were an attempt to distort the harmony and peaceful lives of Kerala
Pinarayi also opined that the "flopped yatra" exposed the double standards maintained by the BJP and Sangh Parivar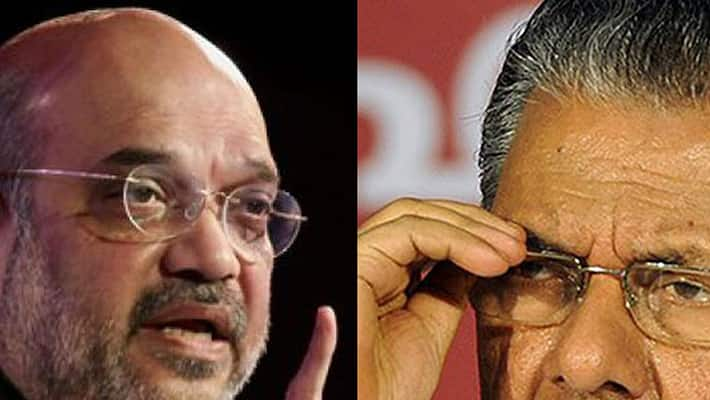 Kerala Chief Minister Pinarayi Vijayan has come down heavily on BJP's two-week long 'jana raksha yatra' in the state which concluded on Tuesday.
Pinarayi, in a Facebook post, alleged that several Union ministers and BJP chief ministers came to Kerala during the yatra and tried to spread false propaganda, through provocative statements.
The CM stated that the "shameful performances" enacted by these ministers were an attempt to distort the harmony and peaceful lives of Kerala and also made into the history as a "classic example of a violation of federal principles".
"What kind of debate does Amit Shah wishes to have with us, when such wrongful precedents are allowed to happen?" the Kerala CM asked.
Pinarayi also opined that the "flopped yatra" exposed the double standards maintained by the BJP and Sangh Parivar and helped the national media realise the reality of Kerala and how inspirational it is.
Read the full post here:
Earlier, winding up BJP's 'jana raksha yatra' on Tuesday, party president Amit Shah warned that the CPM would be "wiped out" if the political violence in the state does not stop.
"Congress got finished because of corruption and the Left parties will be finished due to political violence," Shah told party cadres at the end of the yatra.
"They still have time for course correction. Otherwise, the people of Kerala will throw them out. If the CPM thinks it can suppress our voice by violence, then they are wrong. You cannot crush our ideology," the BJP chief added.
Shah said the people of Kerala had not given Chief Minister Pinarayi Vijayan the mandate for killing innocent people and said that since the formation of the Left government as many as 13 BJP-RSS workers had been killed in the state.
"Most incidents took place in the home district of Pinarayi Vijayan. Are you ready to take moral responsibility or not?" he asked the Kerala CM.
Last Updated Mar 31, 2018, 6:56 PM IST