Why are Kannadigas fuming against actor Jaggesh?
A Tweet by actor Jaggesh congratulating Venkaiah Naidu on becoming the Vice President has made Kannadigas angry
Earlier, Kannadigas had opposed election of Naidu to the Rajya Sabha from Karnataka
But Jaggesh's tweet hinted that no one could stop what is coming, and this angered the Kannadigas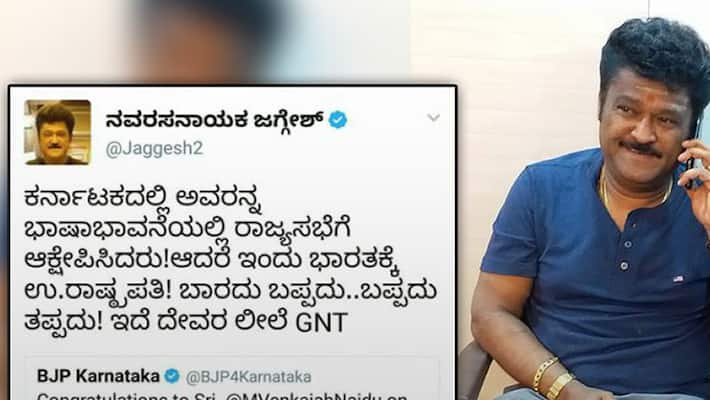 Kannada actor Navarasanayaka Jaggesh's tweet has made Kannadigas angry. The man who was always in support of Kannada language expressed his love for Venkaiah Naidu and the way he congratulated the leader has backfired on the actor.
As soon as Venkaiah Naidu was elected as the Vice President of India, Jaggesh, who is a lso a BJP leader congratulated Naidu and tweeted, Karnataka resisted Venkaiah Naidu's election to Rajya Sabha due to language difference. But today, he is the vice president. What has to happen, it will happen, no one can stop it.
This Tweet was not recieved well by the Kannadigas as they felt Jaggesh insulted those who did not support the candidature of Venkaiah Naidu to Rajya Sabha from Karnataka as he was not a Kannadiga.
There was so much troll and angry messages overflowing the actor's tweet that he deleted it. However, even this became a news that deleting meant he was sorry for whatever was written there.
Thus especially BJP leaders are in a fix and whatever they say is becoming a conbtrovesry, be it the Lingayat issue, Kannada Flag issue or now even congratulating Venkaiah Naidu.
The Tweet has been deleted by the actor, but here is the screenshot of what he had written: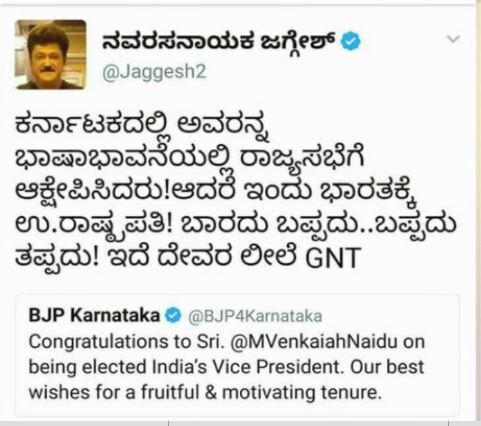 Last Updated Mar 31, 2018, 7:07 PM IST