Whistleblower KAS officer Mathai's 'Gandhigiri' works, finally gets an official vehicle
Mathai, a no-nonsense KAS officer came to limelight after he took head-on against his seniors
As a result, his transportation services were withdrawn forcing him to peddle to work daily
The State government now bucks under pressure, gives the officer his due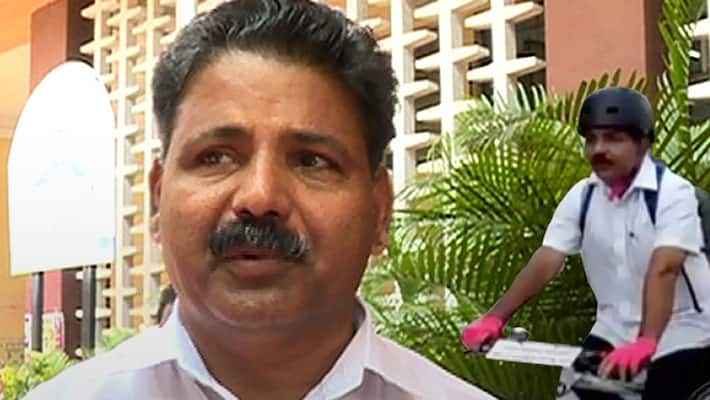 Whistleblower Karnataka Administrative Services officer K Mathai who used to peddle his way to work as a mark of protest against withdrawing the transportation facilities - that was at his disposal - has finally been rewarded.  Mathai will get an official vehicle to travel to the office, reports Kannada Prabha.
It may be recalled here that the officer hasn't had a vehicle at his disposal since August 19, 2017, after he lodged a Lokayukta complaint against Sakala Mission director of irregularities. He had complained that Mission director Kalpana had diverted the official funds for personal use. He did not stop there. He also complained against then BBMP Commissioner M Lakshminarayana in Rs 2,000 crore hoarding scam. As a result, he became the victim of harassment by senior IAS officers.
The government did not pay his transport company for 11 months forcing the firm to withdraw its services. He has not had a vehicle since August and Mathai as a mark of protest would cycle his way to work, riding 30 km every day to his work.
"This has been done purposely to harass me. The agency has cancelled the vehicle allotted to me as the bill was not paid. So I decided to come on the bicycle. This is the Saathvik option left for me to protest," Mathai had told newspersons, then.
In fact, Mathai had written to the Additional Chief Secretary drawing his attention to the problem of not having a vehicle for himself. But, there was just silence.
Also read: This KAS officer cycles to work after government fails to pay his car bills
The government had provided a vehicle to the Sakaala administrative officer since 2012. But after Mathai took head-on on the Sakaala Mission director, his transportation services were withdrawn inviting a lot of criticism. Finally, Mathai's 'Gandhigiri' is rewarded by the State government as it has now allowed him to take office vehicle to the office.
In his nine years of service, Mathai was transferred 27 times for exposing corruption within the government. A former Indian Air Force officer, Mathai is known as the no-nonsense officer in the bureaucratic circle.
Last Updated Mar 31, 2018, 7:02 PM IST