BJP MP called Tipu "mass rapist" but Prez heaps praises
President Kovind credited Tipu Sultan with being the pioneer of rocket and also hailed him as a freedom fighter
BJP leaders are strongly opposing the birth anniversary of Tipu being organised by the State government
Tipu Jayanti will be held on November 10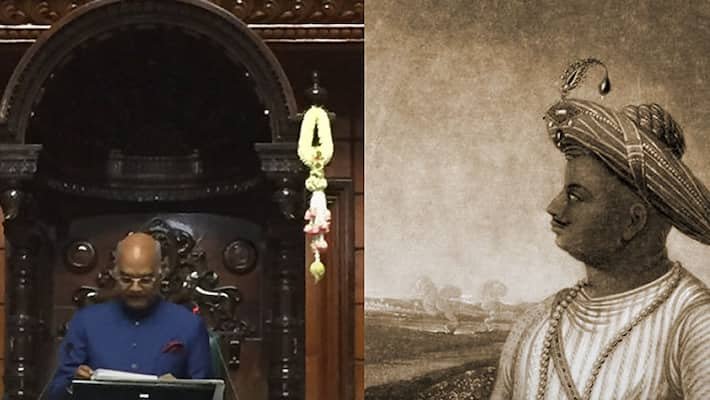 Karnataka BJP has found in an embarrassing position after President Ram Nath Kovind heaped praises on Tipu Sultan while addressing the joint session to mark the diamond jubilee celebration of Vidhana Soudha here on Wednesday.
President Kovind while chronicling the journey of Karnataka, recalled the contribution of great leaders from Vijayanagar rulers to Mysore Wadiyars to Tipu Sultan. In his speech, Kovind said, "Tipu died a historic death fighting the British." He went on to say that Tipu was the pioneer and was the first to use Mysore rockets in the war fare. "This technology was later adopted by Europeans and also our former Army officers - Field Marshal KM Cariappa and General KS Thimmaiah," President Kovind to a loud applause by the Congress leaders.
The BJP has been opposing the Tipu Jayanti that the State government is hell-bent on celebrating it on November 10. So much so that Union Minister of State and Uttar Kannada MP Anant Kumar Hegde had written to Chief Minister Siddaramaiah not to invite him to the birth anniversary of Tipu calling him a "mass rapist" and "brutal killer". Several BJP leaders too had defended his stand and had decided to boycott the celebration, like last year.
Also read: Union minister calls Tipu mass rapist, terms his anniversary shameful
However, the President's speech has put the State BJP leaders in a spot. While BJP State president BS Yeddyurappa has declined to comment on President's praise on Tipu Sultan, Opposition leader KS Eshwarappa has condemned the State government for allegedly misusing the President's position.
Crying foul over the speech, many BJP leaders said that the State government was doing cheap politics by including Tipu issue in the speech copy. But Food and Civil Supplies Minister UT Khader sought to know wouldn't President review the speech copy before reading it out.
Unconfirmed reports said that either the state government hands over the speech copy to the president whenever he is expected to address the joint session or the state secretariat prepares the speech copy. While it is being debated who prepared President's speech copy, it has certainly set the political pitch for the Tipu Jayanti.  
Last Updated Mar 31, 2018, 6:48 PM IST