Residents meet to discuss protecting, reclaiming Bengaluru; DyCM,MLA give it a miss
1,200 Resident Welfare Associations interacted with MPs Rajeev Chandrasekhar and PC Mohan in the presence of freedom fighter HS Doreswamy and experts in various fields, who expressed their concerns about Bengaluru.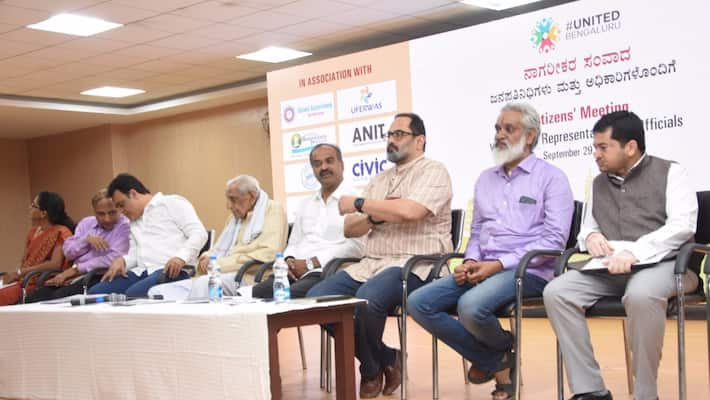 Bengaluru: For the first time in Bengaluru, more than 1200 Resident Welfare Associations came together to articulate the pressing issues that Bengaluru is facing to ensure there is political will to drive change. They took part in the meeting on protecting and reclaiming Bengaluru conducted by citizen's forum United Bengaluru, at Indiranagar on September 29.
The members of the association interacted with Member of Parliament Rajeev Chandrasekhar, BJP leaders PC Mohan and MLA Ashwathnarayan. 
Resident Welfare Associations such as iChange Indiranagar, CAF, Namma Bengaluru Foundation, Prajaa Raag, Bangalore Apartments Federation, UFERWAS, ANIT, CIVIC, BRACE, Forward Foundation, Federation of RWAs Sanjayanagar, Federation of HSR Layout, MSI, Friends of Lakes, Byrasandra Lake Savers, Bangalore Environment Trust, Horamavu Parisara Abhivruddhi Samithi, Forum for People's Collective Efforts. Fight For RERA(Karnataka), One Bengaluru for lakes, and more took part in this. 
The United Forum stated that despite many attempts, Deputy Chief Minister G Parameshwara failed to confirm his presence at the meeting that was discussing the pressing issues bothering the city. 
The meeting discussed issues like rampant commercialisation, non-sustainable models harming the environment, Bengaluru's public health crises with improper garbage disposal system, infringement of the rights of home-buyers by improper implementation of RERA, lack of information about the legal tools with the citizens to reclaim and protect Bengaluru.
Speaking on the occasion, freedom fighter HS Doreswamy said, "Citizens are exploited by the government in the name of development but there is nothing happening on ground. The rich and powerful are getting all the facilities however, the poor are the main sufferers. If more and more people join hands, our fight to protect and reclaim our city will be stronger." 
MP Rajeev Chandrasekhar spoke about the welfare schemes and said, "In our overall scheme of democracy, there is no discrepancies. Citizens should focus on issues like why is Municipal collecting only Rs 9000 crore and why is there no audit of how this money is being spent. He also gave a list of concerns people need to address including, awareness of citizen rights, how public money is spent, public assets are managed. he urged people not to get distracted on fancy PPTs of bifurcating/ trifurcating or making new 400 wards. When they are not responding to the present 198 wards, what or how is the guarantee of them addressing issues of 400 wards, he questioned. It is very disappointing that Dy CM D Parameshwara did not come and had instructed BBMP, BDA, BWSSB and the likes to not attend this meeting."
Speaking on the occasion, PC Mohan, Member of Parliament, Lok Sabha said, "Today commercialisation of residential areas is rampant and residents are suffering due to illegal pubs and bars in their neighbourhood. We need to prove ourselves in Swachh Survekshan rating and let us work towards this."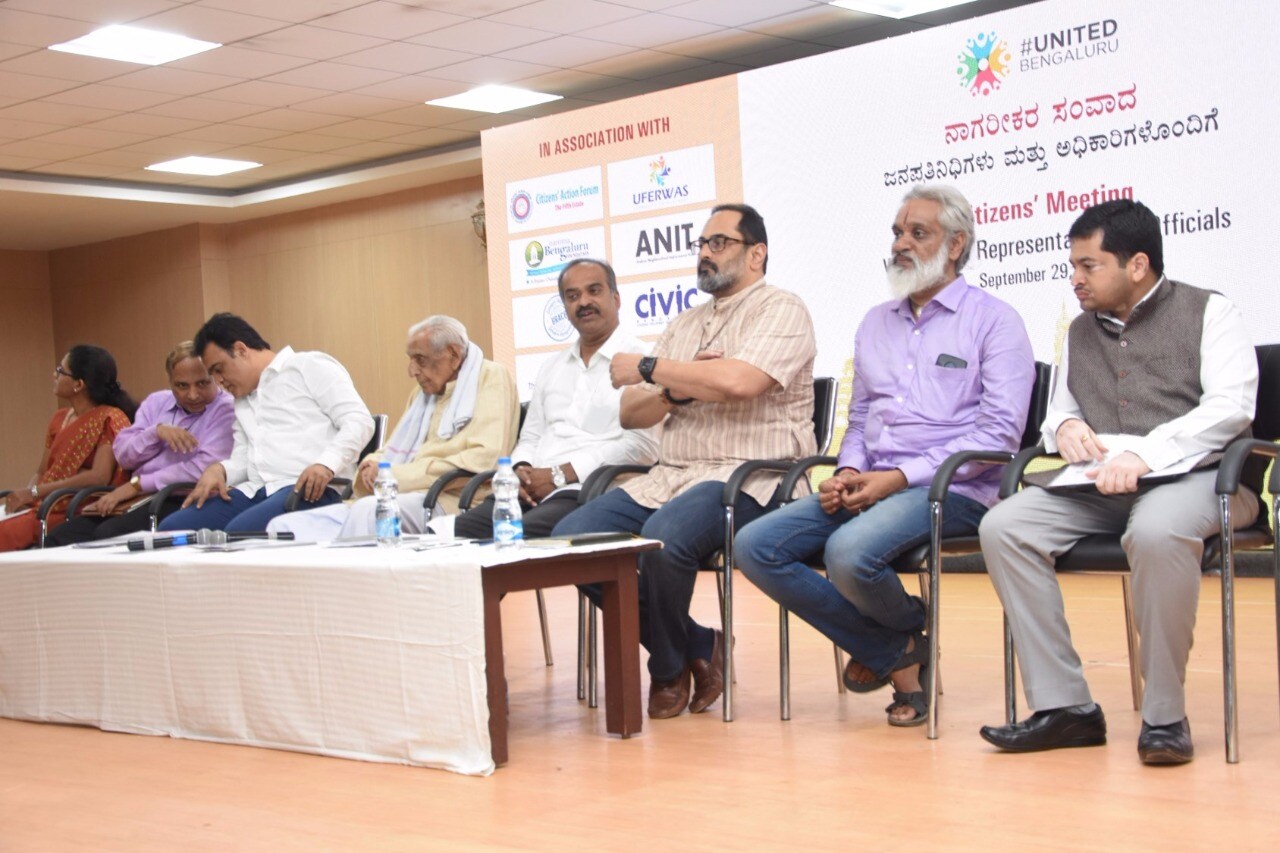 C N Ashwath Narayan, MLA, Malleshwaram Constituency, said, "No doubt that our Bengaluru is suffering with a lot of issues and the government is unable to improve the situation of the citizens. We as citizens should work to ensure that our future generation is a neat and clean environment." 
The fact is that today's Bengaluru is about 741sq km and there were about 1,100 water bodies in 1800's and temperature during that time was around 14 to 15 degrees during May and during December the temperature used to be as low as zero degrees. Today there are only 193 water bodies left and there are about 1.5 million trees for 9.5 million population. 75% of Bengaluru is covered with concrete structure and by 2025 it will go up to 98%. 
Ram Prasad, Solid Waste Management Expert said, "In just 4 years Bengaluru has dropped to 215th place from 38th place in Swachh Bharath ranking."
Last Updated Sep 30, 2018, 3:33 PM IST