Post discharge, Nalapad's victim Vidvat's next course of action?
Doctors treating Vidvat at Mallya Hospital, Bengaluru, said, victim suffered hairline fracture
He needs rest and surgeries not required
Family is contemplating taking Vidvat to Kerala for further treatment
Victim's lawyer aims to quash Nalapad's bail plea at the High Court of Karnataka too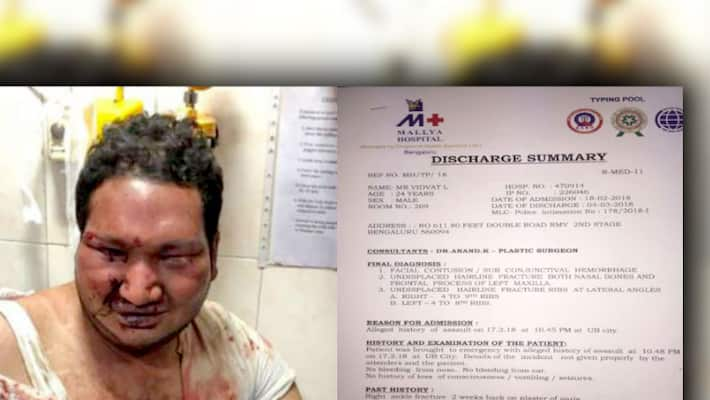 While Nalapad Mohammed continues to be in Bengaluru prison for assault on Vidvat, the victim, who was being treated for the injuries, was discharged from Mallya Hospital in the wee hours of Monday.
To keep the discharge process a low key affair, the family took Vidvat out of the hospital at 02:00 AM, on Monday morning. Now, the family is opting to take Vidvat to Kerala for the treatment of hairline fracture, which he suffered in his face and ribs following the assault by Nalapad and his associates.
Gist of the injuries 
The hospital, which treated him, has said in the statement that, during the course of diagnosis, it was found that Vidvat had facial contusion (damaged blood vessel), periorbital edema, a condition where eyes become swollen in case the bones in the skull region are damaged, subconjunctival haemorrhages (blood clot in white area of  the eyes). The CT scan of the chest region revealed that, the victim had suffered hairline fracture on his ribs - both right and left side.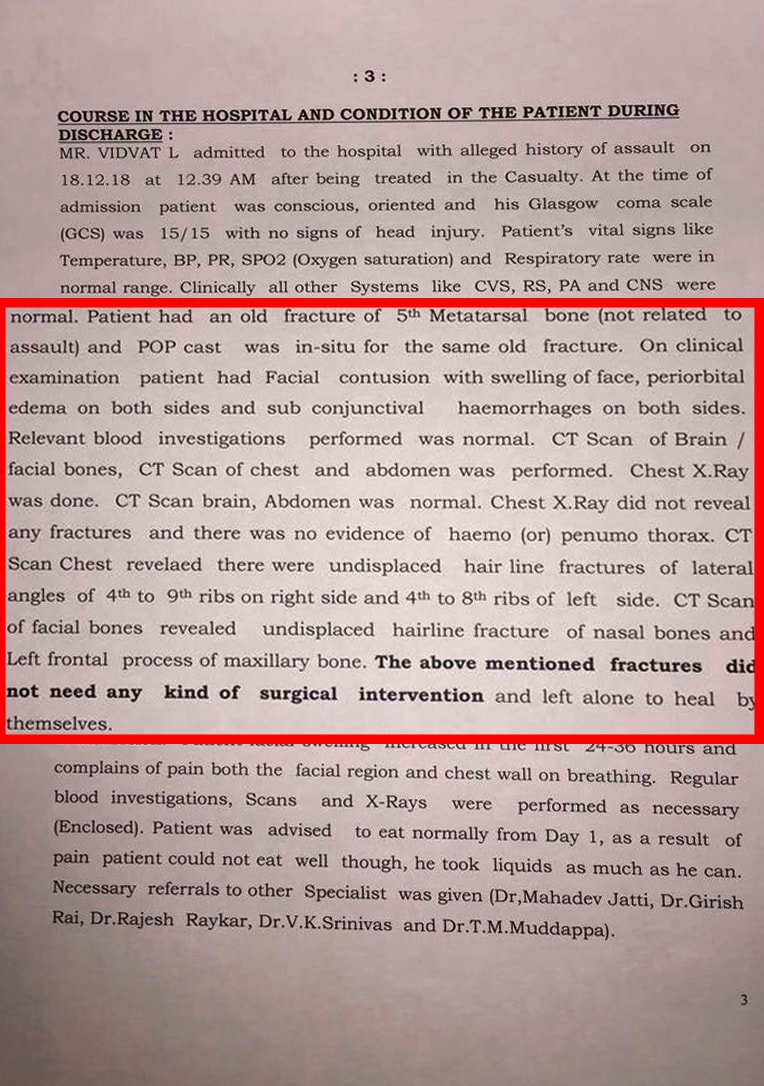 "The treatment of these injuries do not require any surgeries but enough rest should be given to heal on its own. The hospital had given discharge clearance to Vidvat on 28 February, however, the family continued to be in hospital for few more days and on Monday, they took the patient from the hospital. A team of doctors, who treated Vidvat, have asked the patient to come back for a follow up on March 12," said a senior doctor from the hospital.
Meanwhile, Shanthinagar MLA NA Harris is making all efforts to get his accused son Mohammed Nalapad out on bail and has approached the High Court to grant bail as the sessions court had denied bail earlier.
On February 17, Nalapad and his associates allegedly attacked Vidvat for allegedly trivial reasons at Farzi Cafe on Vittal Mallya Road,  Bengaluru. Following the injuries, Vidvat was rushed to Mallya hospital. The media reports forced MLA Harris to ask his absconding son to surrender before the police. And on the same day on February 19, he was remanded to police custody for two days. Later on February 21, the court remanded to judicial custody.
Shyam Sunder, Special Public Prosecutor representing the victim, had pleaded before the sessions court that granting bail to perpetrators would deprive Vidvat of justice. Following the arguments of advocates from both sides, the court quashed the bail plea of the accused and ordered to send Nalapad to jail till the investigation is complete.  Shyam Sunder is likely to present the same argument before the Karnataka high court too. 
Last Updated Apr 4, 2018, 7:11 PM IST