Param Veer Chakra awardee Naik Subedar Yadav reminiscences: We fought in minus 20 degree cold at Kargil
Naik Subedar Yogendra Singh Yadav, recipient of Param Veer Chakra remembers Kargil war.
Vidya Veerta Abhiyan organised to commemorate the 75 th year of Quit India Movement.
Narrated his experiences of the Kargil war when he was a young soldier of 19.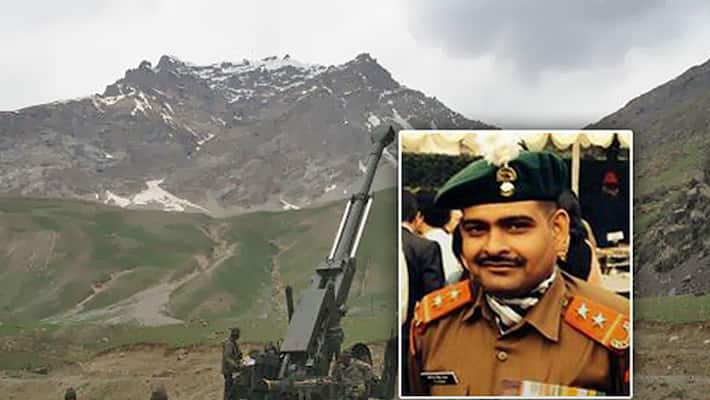 "Some gave up their lives. Some friends had their heads blown away and attained martyrdom. I cried and comforted myself.  Finally we were only 7 left in our battalion. We decided if we die it's going to be after the victory and carried on..."
These were the words of Naik Subedar Yogendra Singh Yadav, recipient of Param Veer Chakra for his relentless fight at the 1999 Kargil war against Pakistan.  He was in the City to participate in the Vidya Veerta Abhiyan organised at the Raj Bhavan on Wednesday to commemorate the 75 th year of Quit India movement. He spoke to Kannada Prabha during his visit to the National Soldiers' Memorial near Raj Bhavan.
Subedar Yogendra Singh Yadav PVC is a Junior Commissioned Officer (JCO) of the Indian army. He was awarded the highest military honour in India, Param Vir Chakra, for his 4 July 1999 action during the Kargil War. He is recorded as the youngest person (19 years old) to ever be awarded the Param Vir Chakra.
"Exactly 18 years' ago, the Indian soldiers were all set to go to war. Life at the Kargil district on the line of control was strenuous. Enemies were to be tackled at extremely difficult terrain. We had to live in minus 20 degree cold. But soldiers are used to that. I was 19 years of age. I had just then joined the army and I was experienced. The only strong aim was to serve the country. Education cultivated that quality in me. It is because of good education that I got the opportunity to fight against the Encounter Capture. Then I got instructions to proceed to Cross Centre. When we reached Cross Centre we saw that it was dense forest. National Highway was shut down. Pakistan army had already covered from all sides. To drive them out was the prime task of Indian army."
They were 21 soldiers participating in the historic task. They were successful in capturing Tiger Hill at the first attack. Then they captured the second hill. Naik Yadav was given the responsibility of carrying water from base to the hilltop. Every 2 hours he would go down and get the water.
"We were 3 young men assigned to carry water. We were physically and mentally very strong. The battalion observed it and I got a chance to fight in the front line. We were surging forward in the dense forest and small pathways. Suddenly Pakistani soldiers encountered us. We all fought bravely returning shot to shot. As we were moving forward fight we had walked into Pakistan border without realising. Then we saw some of our colleagues. They brought us back to our border. I was bleeding profusely. My eyesight was blurred. Our captain asked if I could see and I said I can not see but could hear. It was difficult to survive. Doctors arrived and gave me first aid. I briefed our captain. Doctors gave me an injection and I fainted. When I regained consciousness our battalion had embarked on second attack and we had won" narrated Yadav.
Last Updated Mar 31, 2018, 6:47 PM IST