Modi sounds poll bugle in Karnataka, says people cannot wait for elections
PM Modi said the Congress leaders are disassociated with the people and their aspirations
He criticised former finance minister P Chidambaram for his support for the greater autonomy for Jammu and Kashmir
In Bengaluru, Modi also took part in Dashamah Soundarya Lahari Parayanotsava Mahasamparne event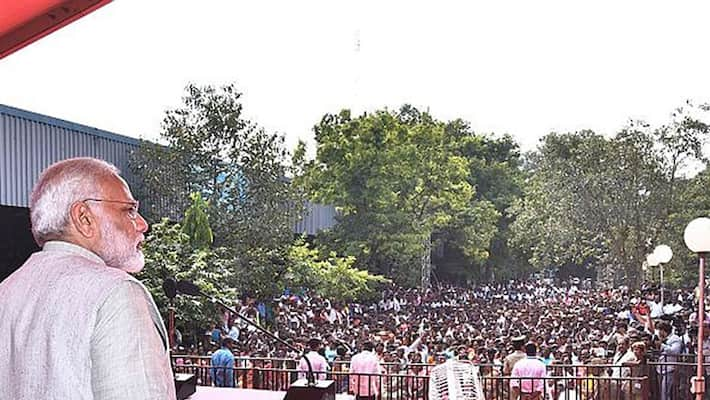 Making an impact of his whistle-stop visit to address the BJP workers in Bengaluru, Prime Minister Narendra Modi made a scathing attack on the Congress party.
Taking a dig at former finance minister P Chidambaram for his support for greater autonomy for Jammu and Kashmir, Modi sought to know have the Congress leaders forgotten the sacrifices that the soldiers of this country made? Modi event went on to say that "Congress leaders shamelessly speaking the same language that the separatists in Kashmir and Pakistan speak."
Also read: Karnataka CM to skip Bidar-Gulbarga railway line inauguration by PM Modi?
"Yesterday's statement of a Congress leader on Kashmir shows how the party feels on surgical strikes and bravery of our army," Modi said. Modi said Congress leaders do not mind to politicise the sacrifices made by our soldiers. They did not even spare the surgical strike. This is an insult to our soldiers.
Reprehensible attempt by Congress to support those calling for Azadi in Kashmir. This is nothing but an insult to our soldiers. pic.twitter.com/kUWG1M1ObI

— Narendra Modi (@narendramodi) October 29, 2017
To the cheering crowd, Modi said: "I want to ask the people of Bengaluru if the country can gain from such leaders who want to play politics on the sacrifices made by our soldiers?"
He further said that the people of Karnataka are tired of such party and they cannot wait for the elections. With Assembly elections scheduled for May in Karnataka, PM Modi's one-day visit to the State is being seen as a precursor to the party campaign.  For, the BJP leaders are expected to go on a State-wide tour from next month, and Modi's visit is seen as the much-needed tonic to boost the party's image for the upcoming elections.
Karnataka wants politics of development. Congress is disconnected with people's aspirations!

— Narendra Modi (@narendramodi) October 29, 2017
Later, Modi participated at the Dashamah Soundarya Lahari Parayanotsava Mahasamparne at Palace Grounds before leaving for Bidar. In Bidar, he dedicated a long-pending Bidar-Gulbarga railway line project.   
Last Updated Mar 31, 2018, 6:37 PM IST