Separate religion tag: Lingayats set December 15 deadline to CM
Lingayats intensify their agitation demanding separate religion tag for them
They set December 15 as deadline to CM to take their appeal to the Centre
The Lingayats have been claiming that they are different from Veerashaivas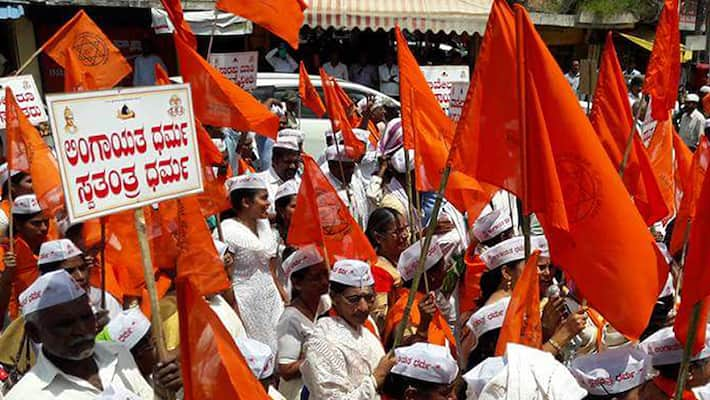 Upping the ante for the separate religion tag for Lingayats, Mathe Mahadevi, the first female jagadguru of Lingayat community, has set December 15 deadline for Chief Minister Siddaramaiah to act.
Addressing a massive rally in at National College in Bengaluru on Sunday, Mathe Mahadevi observed that Siddaramaiah has been waiting for both Lingayats and Veerashaivas to agree. But that will never happen. "We can never agree. As Veerashavias and Lingayats are different. At least chief minister should consider the majority by Lingayats," Mathe Mahadevi said, reports Suvarna News.
Also read: 5 times Mathe Mahadevi, first female Jagadguru of Lingayat community, courted controversy
She further said that the community had set December 15 as the deadline for the chief minister to take their appeal to the Centre. "Before the election dates are announced, and the code of conduct is initiated in the State, chief minister should take our demands to the Centre," she added. "Veerashaiva belongs to Shaivaite clan, but Lingayat was born out of 'Vachanas. We do not offer puja to Shiv Ling in temples but to a round object. We want the whole world to know about our religion," Mathe Mahadevi opined.
Also read: In a 'movement' of confusion: How Lingayat agitation got reduced to one big mess!
The seer came down heavily on BS Yeddyurappa, a prominent leader from the community. Yeddyurappa had, in fact, signed a letter that had pressed for the same demand way back in 1991. But now, Yeddyurappa is strongly voicing against such a move. The demand for separate religion status for Lingayat was made by the Akhila Bharatiya Veerashaiva Mahasabha in 1991. The Mahasabha had submitted their proposal - signed by then legislator Yeddyurappa, KLE working president Prabhakar Kore and former minister Basavaraja Bommai - before the Central government.
Even in 2013 too, Yeddyurappa and other Lingayat community leaders had signed a Mahasabha letter seeking separate religion status for Lingayats, and the letter was submitted to the then prime minister Manmohan Singh. The leaders had also demanded that a separate column is provided for Lingayats while conducting caste survey. But now, Yeddyurappa has stayed away from the movement.
Last Updated Mar 31, 2018, 6:39 PM IST