Karnataka effect: Goa Congress, RJD in Bihar to meet Governor to seek invitation to from Govt
Following Karnataka Governor's decision to invite BJP to form the government because it is the single largest party, now Congress in Goa and RJD in Bihar are set to meet Governor to stake a claim to form the government as the single largest parties of the respective states.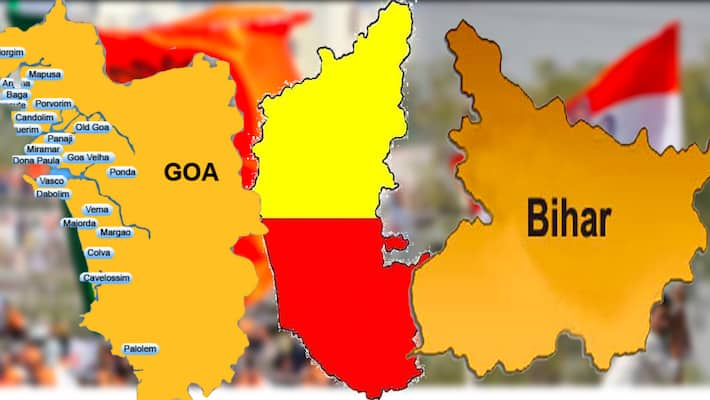 Following the developments in Karnataka, the Goa Congress party which emerged as the single largest party after 2017 election, will meet the Governor Mridula Sinha, seeking an invitation to form the government in Goa.
According to latest reports, Bihar Rashtriya Janata Dal leader Tejaswi Yadav says that he will also meet the Governor as Congress had emerged as the largest party after elections in 2015. The RJD emerged as a single largest party with 80 seats, followed by JD (U) with 71 seats and BJP with 53 seats.  However, in Bihar too, the Governor Satya Pal Malik invited BJP and coalition to form the government, because they had the majority.
Thus going by what happened in Karnataka, currently RJD too wants to stake claim to form the government as the single largest party.
In Karnataka, where instead of the coalition which has the majority, the single largest party BJP has been invited to form government and Yeddyurappa of BJP has already taken the oath. The Governor has given 15 days time to prove majority to Yeddyurappa.
Whereas, Congress with 78 seats and JD(S) with 38 seats have joined hands together and have more than the simple majority with 118  seats. However, the leader of BJP with 104  seats has been sworn in as the CM of Karnataka.
Taking a cue from this, Goa Congress which had won 17 seats off 40 and BJP had won only 13 seats. It formed a  coalition with Goa Forward Party and MGP which had secured three seats each and claimed the majority.
Going by the majority, Governor Mridula Sinha invited BJP coalition to form the government, despite Congress' letter seeking an invitation for the single largest party (Congress with 17 seats) to form the government.
However, BJP proved its majority in two days and Manohar Parrikar was sworn in as the Chief Minister.
Last Updated May 17, 2018, 5:10 PM IST