State government trumpets about Kannada but its own 85 websites are in English
Prominent websites of agriculture, weather and even chief minister's are in English
Despite the appeal, the government has failed to take measures to promote Kannada on technology front
he KDA is expected to submit 21 guidelines on developing and promoting Kannada through software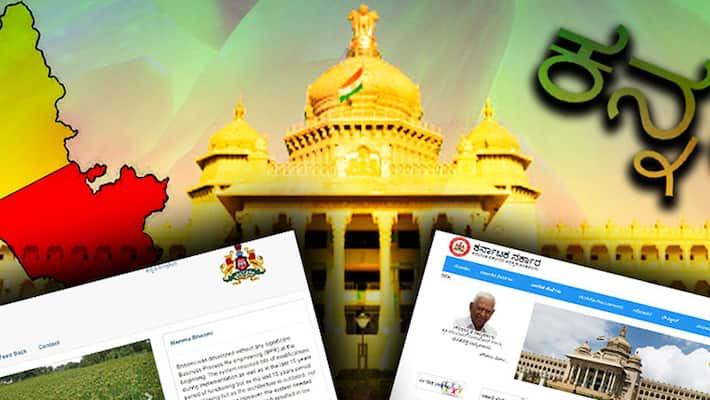 The State government has made Kannada a mandatory in the administration. But strangely this rule does not seem to apply to the government websites. For, at least 85 government websites including the portal of the chief minister is all in English, except for the home page.
When the state government insists that the Kannada language is the supreme in the land of Karnataka, it has quietly neglected in implementing the same even on the technology front. Take the case of Chief Minister Siddaramaiah's official website. The home page of the portal is neatly presented in Kannada. However, if one clicks for more information on any policies, the page opens in English. For example, if one has to read on Bhoomi, the page has wide information from the policies to decisions on Bhoomi but in English. This is just a tip of the iceberg.
This has upset the Kannada Development Authority (KDA). In spite of repeated memorandums to the government - to promote Kannada even in the technology sector - the government seems to have not taken it seriously. Hence, the authority is submitting a proposal of 21 guidelines to protect and promote Kannada in the government through many software.
Speaking to Kannada Prabha, KDA Chairman SG Siddaramaiah said "Although the government claims that Kannada is mandatory in the administration, the same has not been applied to the websites. Prominent websites including Agriculture, Industries, Housing Board, Urban development and rural development  are in English." It is strange to know that the portals of agriculture or weather departments that are more beneficial for farmers are in English. What more, even the government circular copies and orders are devoid of Kannada. "How can you expect any Kannada-speaking person to benefit from these English websites," shot back KDA chairman Siddaramaiah.
Emphasising on the need to promote and protect Kannada in this technology-driven days, Siddaramaiah said unless the language is applied in technology, it would be difficult to protect the Kannada language in the future. It may be recalled here that the authority had proposed to develop four software for Kannada in 2010. Besides, the authority had also urged the government to convert ASCII scheme to Unicode, to develop at least 15 types of Kannada fonts, to create Kannada Braille software, optical character recognition software, Kannada speech recognition software and many.
"Apart from giving prominence to Kannada, the government websites should be user-friendly too. The usage of Kannada should not be just restricted to administration, but the government should show commitment to promoting Kannada through software. We will submit a proposal urging the same to the government," Siddaramaiah told Kannada Prabha.  
Last Updated Mar 31, 2018, 7:07 PM IST