Kambala can be held but with Tahsildar's permission
Kambala, cart race, ox race and other sports involving animals can be conducted after taking due permission from tahsildar
With this amendment the Prevention to Cruelty to Animals Amendment bill was tabled and passed at the assembly session on Friday
The animals must not be beaten or subjected to any sort of cruelty. Subject to this condition permission will be granted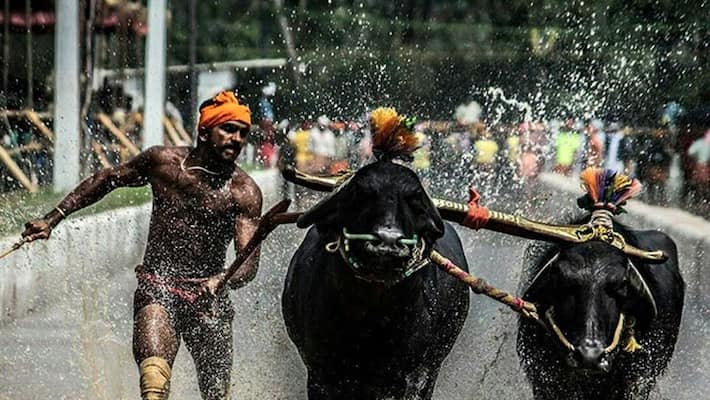 Kambala, cart race, ox race and other sports involving animals can be conducted after taking due permission from tahsildar. With this amendment, the Prevention to Cruelty to Animals Amendment bill was tabled and passed at the assembly session on Friday, reports Kannada Prabha.
Animal Husbandry Minister A Manju said, previously the bill was amended to permit Kambala. However in view of the Supreme Court order, the scheduled practices can be allowed with due permission from the tahsildar and the animals must be inspected by the veterinary medical officer. The animals must not be beaten or subjected to any sort of cruelty. Subject to this condition permission will be granted. This will not hinder any religious practices, he said.
BJP MLA Vishveshvara Hegade Kageri said a total debate on the bill must be allowed and hence the amendment bill must not be tabled. Responding to that Law Minister TB Jayachandra said enough debate has already been held in this regard. As per the court's order, the amendment must be implemented within 6 weeks. It is already 4 weeks since the order hence there should not be any more delay.
Meanwhile, at New Delhi, Supreme Court has raised some questions with regard to amendment to Prevention of cruelty to Animals, permitting Kambala. PETA had appealed to SC with regard to the Act. SC Chief Justice Deepak Mishra had heard the application on Friday.  Justice DY Chandrachood questioned how SC can issue an Ordinance, when the President had made some suggestions in this regard and sent back the amendment? 
The consul for the State said the President had not rejected the bill but had only made some suggestions and said to review. The next hearing was posted to Monday.
Last Updated Mar 31, 2018, 6:33 PM IST