Canteen politics: JD(S), Congress in race to put out Amma-style eateries first
'Namma Appaji canteens' to hit Bengaluru streets before government's 'Indira canteens'?
JD(S) MLC T A Sharavana is all set to hijack the model of selling subsidised food, from the State government
Wants to source food grains and vegetables directly from farmers, and sell breakfast and lunch at Rs 5 and Rs 10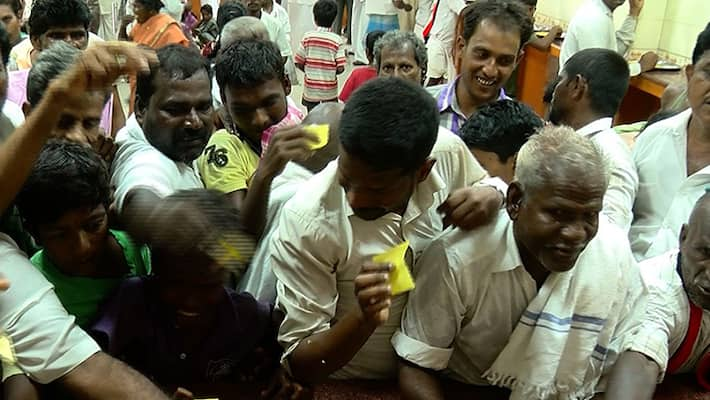 Former Tamil Nadu chief minister J Jayalalithaa's 'Amma canteen' model has turned out to be a big hit among political parties in Karnataka - which is going to elections in less than a year.
The Siddaramaiah-led Congress government, which has decided to replicate the Tamil Nadu model, is keen on launching the canteens ahead of the 2018 Assembly elections, in a bid to woo the voters. The Indira canteens (announced as Namma Canteens in the state budget), is scheduled to be launched on August 15 in Bengaluru wards.
However, here's a politico from Karnataka's very own regional party, who wants to give Siddaramaiah a run for his money. JD(S) MLC T A Sharavana is on a mission to get ahead of the government in replicating the Tamil Nadu model, which as proved to be a successful electioneering tool. The MLC wants to set up canteens which will serve breakfast and lunch at subsidised rates in all 28 Assembly constituencies in Bengaluru, under party supremo H D Deve Gowda's name. The canteens will go by the name - Namma Appaji canteens.
Like the government's announcement, Sharavana wants to sell breakfast (comprising idly, vada, khali dosa, chutney and sambar) at Rs 5 per plate, and lunch (comprising rice items like tomato rice, bisibelebath, pongal, chitra anna, curd rice) at Rs 10 per plate. He aims to launch his first canteen in Basavangudi, a constituency which he has been nurturing for the last decade.
Sharavana was however a little confused about the choosing the brand name for his canteens. "It wanted it to be either be 'Appaji canteens', after JD(S) supremo H D Deve Gowda, or 'Namma Kumaranna canteens' after the party president H D Kumaraswamy. I finally came up with Namma Appaji canteens," he added.
The MLC was hopeful of setting up the first canteen on May 18, to mark Deve Gowda's 85th birthday. "I was very keen that Deve Gowda himself inaugurated the first canteen on his birthday tomorrow. However, owing to personal commitments, I had to postpone the launch by a fortnight. I have more or less figured out the logistics, and it is only a matter of time before the canteens are up and running," he said.      
Sharavana also aspires to extend the canteens to all Assembly constituencies across the State. "I want these canteens fully functional in all parts of the State, before Kumaranna (H D Kumaraswamy) assumes the mantle as chief minister next year."
When asked why he was embarking on this venture, Sharavana said that he wants to expose the "deceits" of the Congress government. "The government hopes to garner massive kickbacks from the project. I want people to know how corrupt this government is."
Sharavana said that he came upon that idea on the day of 'Vaikunta Ekadashi' a few months back. "I usually distribute one lakh Tirupati laddoos every Vaikunta Ekadashi. This year, Deve Gowda ruefully told me to do something more meaningful like feeding the poor. It was then that I decided to work towards making Karnataka a hunger free state, which is the party's motto," he added.
Sharavana said that the canteens would cater to Bengaluru's huge floating population. The MLC will be investing his own money to set up the canteens. "It is definitely not a revenue generating model. There will be losses. Whatever revenue is generated, will go towards payment of salaries to cooks and staff, and rentals," said Sharavana. Also, if the canteens prove to be a success, eateries will also be sold for dinner at the same subsidised rates, he added.
Last Updated Mar 31, 2018, 6:46 PM IST