'Ink Bhagya' for English boards on Brigade Road
The Kasturi Karnataka Janapara Vedike, a pro-Kannada outfit blackened name boards that had failed to give prominence to Kannada
The activists raised slogans and threatened to continue their agitation till November 30
They have urged all the multiplexes to screen Kannada movies all this month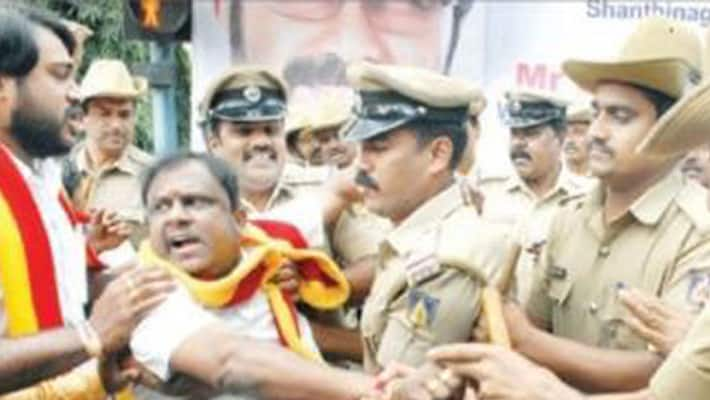 Members of Kasturi Karnataka Janapara Vedike, a pro-Kannada outfit, protested against some of the shops that had their name boards in English on Brigade Road on Rajyotsava Day. They gathered at Brigade Road to launch Ink Bhagya campaign painting ink over English name boards, reports Kannada Prabha.
Led by Vedike president SC Neelesh Gowda, the activists raised slogans and painted English name boards with black ink. He said the outsiders are utilising all facilities of the State but are ignoring Kannada. "This is an insult to Kannada," they said and threatened to continue their agitation till November 30. He also urged for all multiplexes to screen Kannada films in November. 
As a preventive measure, the police took members into custody and released them later.
Last Updated Mar 31, 2018, 6:51 PM IST