'Poor' engineer takes to poaching to fund IAS dreams
The engineering graduate from Hassan had written the exam for the post of Sub-Inspector
The youngster has so much potential that even the CID team felt sad when he was being taken to court
This story speaks of how ambitions can sometimes cause even the most steadfast to waver. A young 22-year-old city engineer, Harsha had grand plans of making it big in life. He was an IAS aspirant and he was willing to go to any lengths to achieve his powerful ambition.  
However, on his journey to fulfil his dreams, leopard cat crossed his path and now he is in jail, under the watchful eye of the police.
Earlier in March, Ashwin Ramaswamy a techie cum wildlife photographer along with three others  were  arrested by the Central Crime Branch at the Shankarpuram Police Station for selling  3 Tigers and 1 Black Panther skin worth Rs 2 crores. Along with Aswhin, KV Arun Kumar, 52, Jagadish, 41 and Rajeshwar 46 have been arrested. The police also seized, one Tata 407 vehicle and Maruti 800 car from the accused.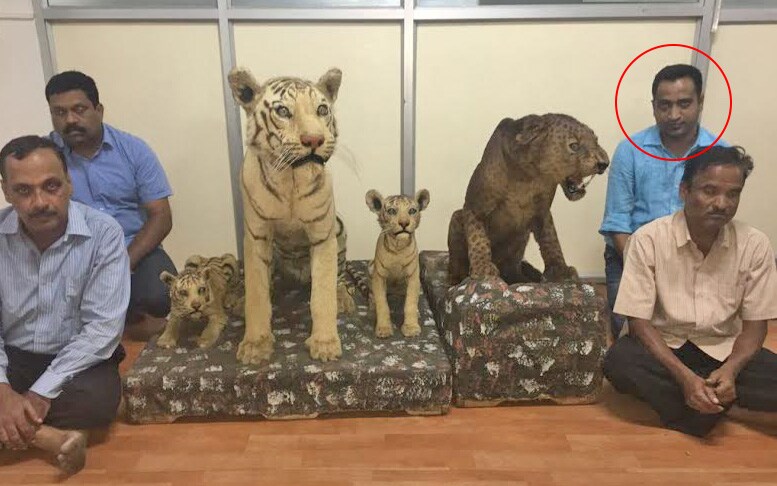 Circled image: Ashwin Ramaswamy
"While Ashwin could have led a decent life as a techie, Harsha could have become a reputed engineer. Now, both of them are in jail," said Deputy Superintendent of Police, CID Forest Cell, Balrame Gowda Gowda and added the arrest, though made earlier, was not mentioned immediately as there were chances of people interrupting the arrests using influence.
However, it was during the interrogation process that the shocking details of Harsha's ambitions came to light. The engineering graduate from Hassan had written the exam for the post of Sub-Inspector; he had dreams of becoming an Indian Administration Service officer and had even started preparing.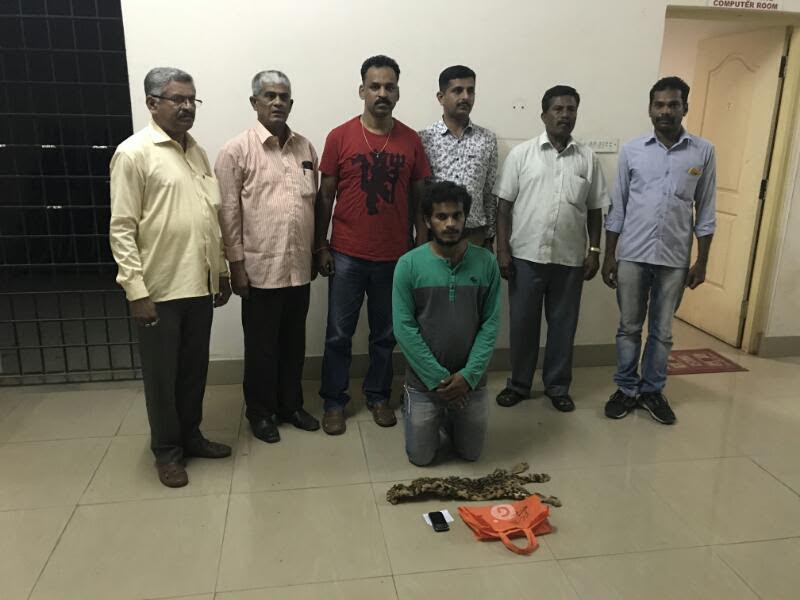 The Deputy Superintendent of police, CID Forest Cell, Balrame Gowda said, these back to back incidences of educated youngsters like the techie and the engineer's being involved in such  crime has raised red flags. This lot is educated and they know the law and yet were still they enter into poaching of wildlife.
 "Harsha wanted to get an individual house in Bengaluru for IAS preparation. To pay for it  he hunted a leopard cat from the Hassan coffee plantation area and planned to sell the leopard cat skin for Rs 70,000.  Based on the information, a trap was laid and few officers posed as buyers and were in touch with Harsha. He was asked to come to Bengaluru North and when he opened the plastic bag containing the skin, he was caught red handed," said Purushotham, Inspector, CID Forest Cell.
The youngster has so much potential that even the CID team felt sad when he was being taken to court. Had he used his talent and worked hard he would have made it big, but now he will be in jail and once released, he will not be eligible to take up any competitive exam, opined Purushotham.
As the CID cannot register any case in this connection, they have shown the arrest of the accused from Sampigehalli Police limits and have recorded his statements. 
The CID forest department now have activated their information network around forest areas as they suspect that like Harsha, many other poachers may also be hunting small animals like the leopard cat which are found in Mysuru, Coorg, Chikkamagaluru, Hassan,and places close to the Western Ghats.
The skin of the cat resembles that of the leopard and poachers often dupe the buyers, saying it is leopard pelt and sell it for over Rs 50,000 and sometimes close to Rs 2 lakh. Since the animal is small. The poachers pass it off by saying it was a leopard cub. Trading in the leopard skin is illegal in India as it is in many other countries
Last Updated Mar 31, 2018, 6:44 PM IST