Anupama Shenoy drops another bomb, claims there is more to CM's hublot watch
Chief Minister's much controversial hublot watch was reportedly gifted by Dr Girish Pillai Chandra Verma
It now turns out that Dr Girish works as cardiologist with NMC, Dubai, run by Dr BR Shetty
The government hurriedly okayed a 450 crore project to develop Jog falls and awarded the work to Dr Shetty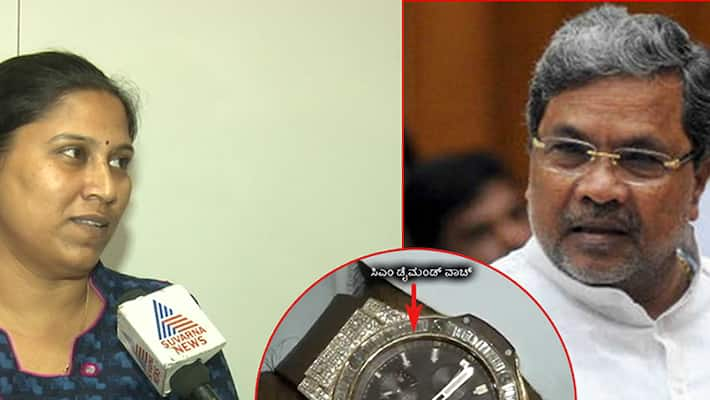 The diamond-studded Hublot watch, a gift that had put Chief Minister Siddaramaiah in the spotlight for all the wrong reasons, has come to haunt him yet again. There seems to be more to this 70-lakh worth watch gifted to Chief Minister Siddaramaiah, according to a complaint lodged by former DySP Anupama Shenoy with Legislative Assembly speaker KB Koliwad. Anupama has alleged that Siddaramaiah - in return for the watch - has awarded major projects to Dubai-based entrepreneur Dr BR Shetty.
It may be recalled here that when the Opposition parties had raked up the watch issue, Siddaramaiah - after feigning ignorance on who gifted the watch to him - had stated that a Dubai-based surgeon Dr Girish Pillai Chandra Verma had gifted the watch, despite his refusal.
But now Anupama alleges that Dr Verma works as a cardiologist at the NMC Healthcare, Dubai run by entrepreneur Dr Shetty and this was the sole "reason" for Siddaramaiah for awarding two major projects to Dr Shetty. The two projects include developing one of Udupi's oldest hosptials and also Rs 450 crore project to make Jog Falls, an all season spectacle. Anupama alleged that these two projects were awarded in a hurry and this was a "return gift" for the hublot watch, reports Suvarna News.
In her complaint to the Speaker, Anupama has sought to know why Chief Minister hid the fact that Dr Girish worked for NMC Health care, run by entrepreneur Dr BR Shetty. "He had taken at least two days to recall the name of the person who had gifted him the watch. This is suffice to show the corruption involved in awarding those two projects to Dr Shetty," reports Suvarna News quoting Anupama Shenoy.
It may be recalled here that both Lokayukta and Anti-Corruption Bureau had refused to investigate Rs 70 lakh worth watch claiming that it does not come under the purview of corruption. However, now Anupama has urged the Speaker for an investigation into the hublot watch. If the Speaker fails to initiate action, Anupama said she will lodge a private complaint in the court.
Last Updated Mar 31, 2018, 6:35 PM IST