Journalist-activist Gauri Lankesh was killed on September 5 at her residence
The SIT chief confirmed that two killers had come on in bike to kill Gauri Lankesh
The investigating team confirmed that the killers used 7.65 mm gun
It has been one month and 10 days since journalist-activist Gauri Lankesh was killed at her house in Rajarajeshwarinagar and now the Special Investigation Team (SIT) has released the sketches of three suspected to have killed her.
The suspects, as per the SIT chief BK Singh, had stayed in the City for at least a week (or even more than that) before committing the crime. This confirms earlier reports that the killers indeed had made a survey of Gauri Lankesh's house and studied her routine before attacking her on September 5 at her house.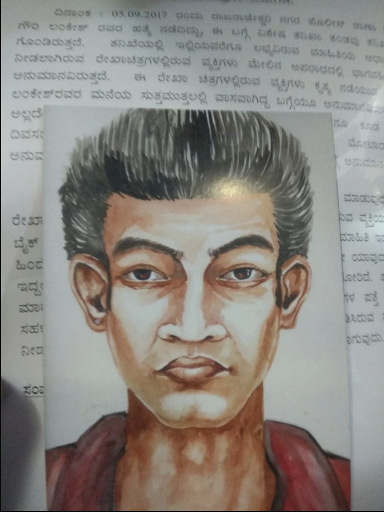 The sketches have been drawn based on the CCTV footage retrieved from Gauri Lankesh's residence and also the eye-witnesses accounts. The SIT had taken the help of artists from Chitrakala Parishat and also the technical team in drawing up these sketches. The police suspect that the killers could be in the age group of 25 and 30.
On the query over whether there were any similarities in the pattern of Kalaburagi, Dabholkar and Gauri Lankesh's murder, IPS officer BK Singh said there were many similarities and also equal number of dissimilarities. However, the SIT chief did not specify the motive behind the murder of Gauri Lankesh stating they are exploring all angles.
The investigating team has identified the make and the model of the bike that the killers used. However, he declined to mention the details of it. He said that since there are lakhs of vehicles under that model, it is proving difficult for them to zero in on the suspect vehicle. Meanwhile, he confirmed that the killers used 7.65 mm gun and only two killers had come on a bike to Gauri's residence. With no headway so far in Gauri Lankesh's murder, the investigating team has made these sketches public to seek help in identifying the suspects.
Last Updated 31, Mar 2018, 6:34 PM IST