Retired DGP Satyanarayana Rao had alleged that Karnataka CM had directed him to give provisions to Sasikala inside the jail
Chief Minister Siddaramaiah refuted these charges
Here is the document where Rao is stating that he was called by the CM to the guest house
Retired DGP (Prisons) Satyanarayana Rao's statement that he provided VIP treatment to Sasikala according to Karnataka CM Siddaramaiah's directions, has created a controversy. However, CM Siddaramaiah has refuted these charges and said he has not given any such directions.
A document has been obtained by the media, which has the statement of DGP Satyanarayana Rao stating that, CM Siddaramaiah, through his PA Venkatesh had called him to the Kumarakripa Guest House and had directed him to provide Sasikala with cot, bed and a pillow.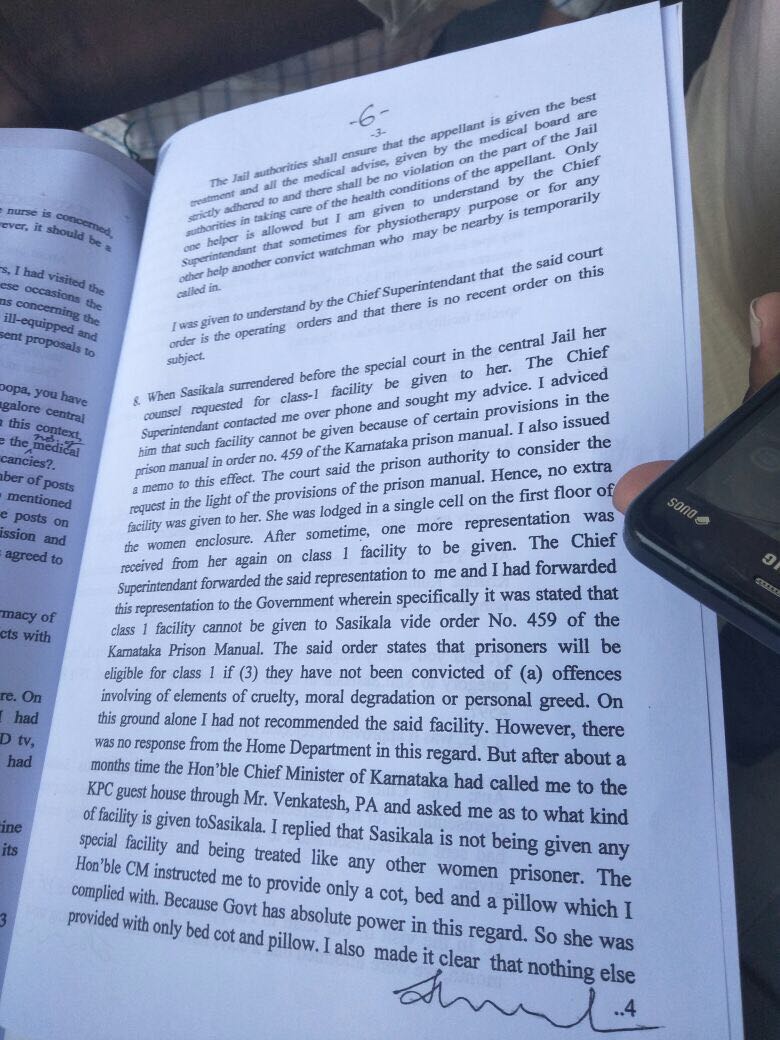 It can be noted that when Sasikala of the AIADMK (also close aide of late TN CM Jayalalithaa) was convicted in the disproportionate assets case, the jail rule had clearly stated that she will not be given class 1 treatment and will just be a common prisoner at Prappana Agrahara in Bengaluru.
Earlier, then DIG (Prisons) Roopa accused Satyanarayana Rao of taking Rs 2 crore bribe to provide VIP facilities to Sasikala.
But this accusation of Roopa was rubbished by Prisons DGP Sathyanarayana Rao. This had led to a war of words between Roopa and Sathyanarayana Rao. Ultimately, the Karnataka government ordered a probe in this issue. A committee under retired IAS officer Vinay Kumar was formed to investigate the matter. Vinay Kumar has now submitted his findings.
The report submitted has been accepted. Accordingly, the inquiry will be held against Superintendent Krishna Kumar and Deputy Superintendent. But in a surprising move, an inquiry has been ordered against DIG Roopa, the whistleblower of the irregularities in Bengaluru prison, Parappana Agrahara.
Last Updated Apr 4, 2018, 7:11 PM IST