Vidhana Soudha diamond Jubilee turns out to be disorganised melee
The diamond jubilee celebrations of Vidhana Soudha was a bundle of chaos, mismanagement and disorganised alleged HD Kumaraswamy
Several eminent personalities were conspicuous by their absence like former Prime Minister HD Deve Gowda, who was not invited
Legislators themselves were stopped at the gate due to the chaos in distribution of entry passes, as the passes were being given inside
There was a melee during the photo shoot with the President Kovind, resulting in Kollegala MLA S Jayanan fell down and fractured his right hand
The Vidhana Soudha staff were declared half a day's leave and they had promptly locked up all the toilets at both Vidhana Soudha and Vikasa Soudha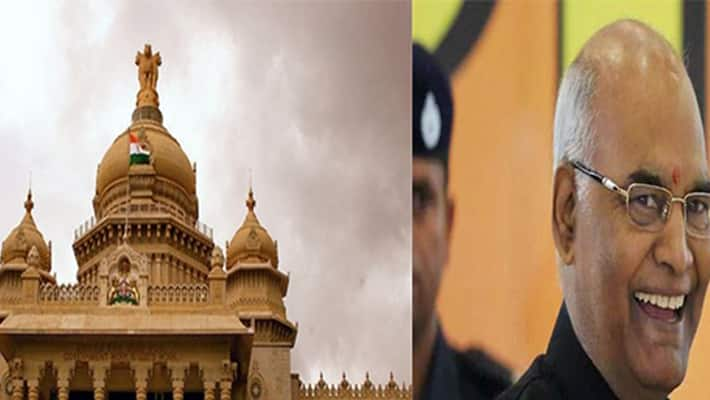 The diamond jubilee celebrations of Vidhana Soudha was a bundle of chaos, mismanagement and disorganised alleged JD(S) State President HD Kumaraswamy. He attended the program not to disrespect the President who was on first State visit and addressed the special joint session. But the arrangements were so lacking that it was disgrace hence he had to leave the premises he said. There was not a chair designated for the former chief minister and he was asked to stand at the back row. He quietly left the place he said, reported Kannada Prabha.
ALSO READ: How controversies marred diamond jubilee celebration of Vidhana Soudha
There were many more incidents that marred the dignity of the function.  Starting from street dogs that surrounded the VIPs and troubled them while getting in from the West gate. Action was not taken to remove the menacing street dogs before the programme.
Several eminent personalities were conspicuous by their absence like former Prime Minister HD Deve Gowda. However, it was found that he was not invited. Legislators themselves were stopped at the gate due to the chaos in distribution of entry passes. Some MLAs had to fight to get into the premises as the passes were being distributed inside.
There was a melee during the photo shoot with the President Kovind, resulting in Kollegala MLA S Jayanan fell down and fractured his right hand.  When Bharata Ratna C N R Rao arrived he was insulted by refusing to allow him enter. He was heard telling the security that he is a scientist and came because he was invited but the security guards knew nothing about it. Finally some officials arrived from inside and took Rao in. There was no security protocol or even general information to the security personnel hence even distinguished dignitaries were put to embarrassment.
ALSO READ: Built by convicts, carved by Soraba's chisellers, Vidhan Soudha is truly indigenous
The Vidhana Soudha staff were declared half a day's leave and they had promptly locked up all the toilets at both Vidhana Soudha and Vikasa Soudha. The invitees were seen desperate without toilets. The floral decoration on the dais collapsed soon after the President's speech. Fortunately no one was injured. The BJP and JD(S) legislators walked out of the programme unhappy with the mismanagement. Hence a large quantity of expensive food was wasted. The public were totally not allowed into the premises and were chased from the streets also. People were heard complaining that the programme was being held using public money and how can they not allow public to see.
The documentaries that were commissioned to senior film directors Girish Kasaravalli and T N Seetharam were incomplete and were shown anyway. The 3D show assigned to master Kishore was cancelled at the banquet hall and he was not informed about it. He made a show at the program on the programme outside.
Last Updated Mar 31, 2018, 6:50 PM IST